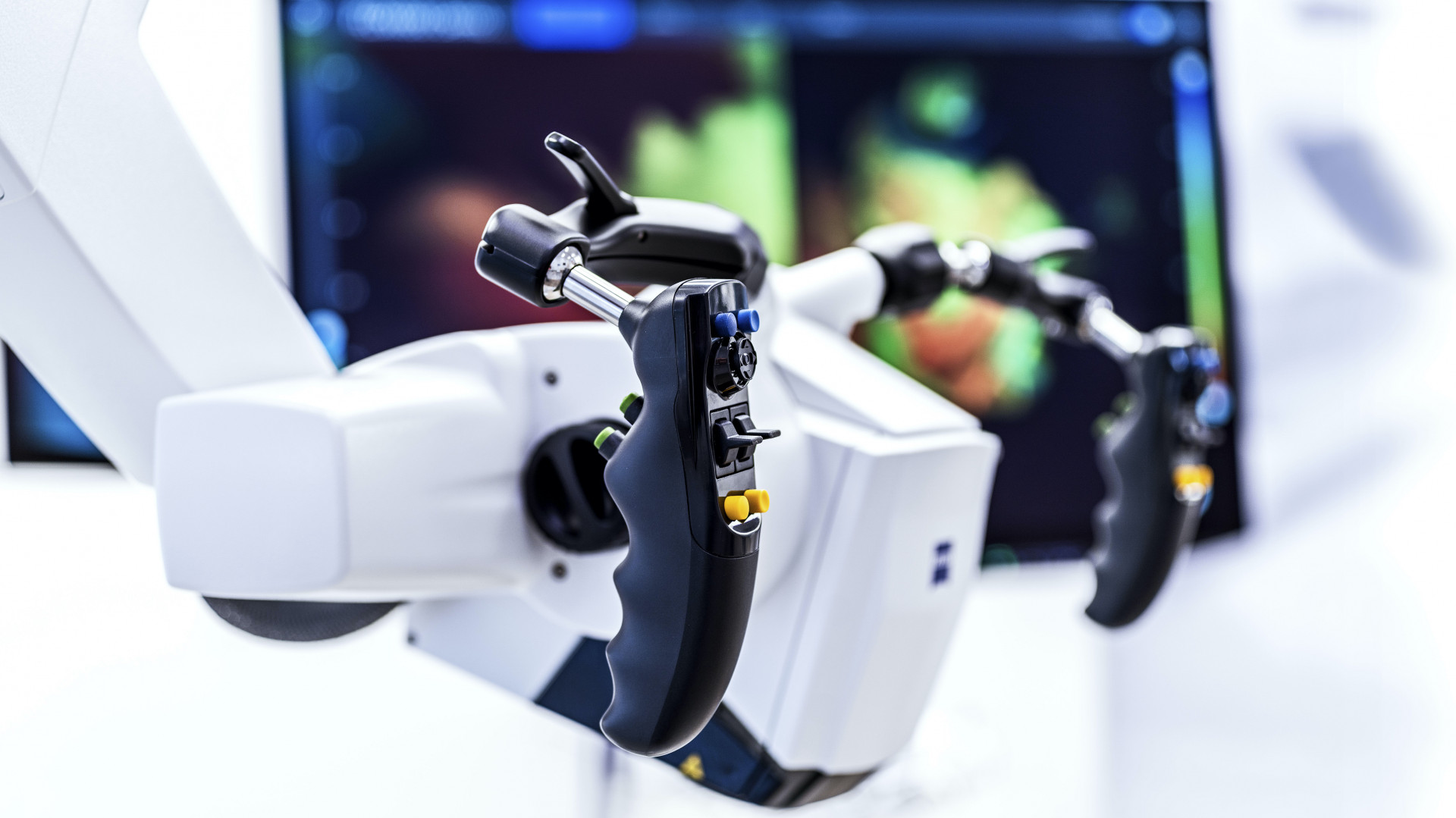 Robotic Visualization System
People are living longer than ever before and thus need more medical treatments. At the same time, the global population is growing and an increasing number of people can afford good medical care. Yet how is it possible to guarantee that patients can be treated as efficiently and effectively as possible even if they need complicated and difficult surgeries? The three nominees have developed an innovative platform that lays the foundation for just that and at the same time relieves the severe burden on surgeons and members of the OR team. The full potential of the technology is realized in neurosurgery.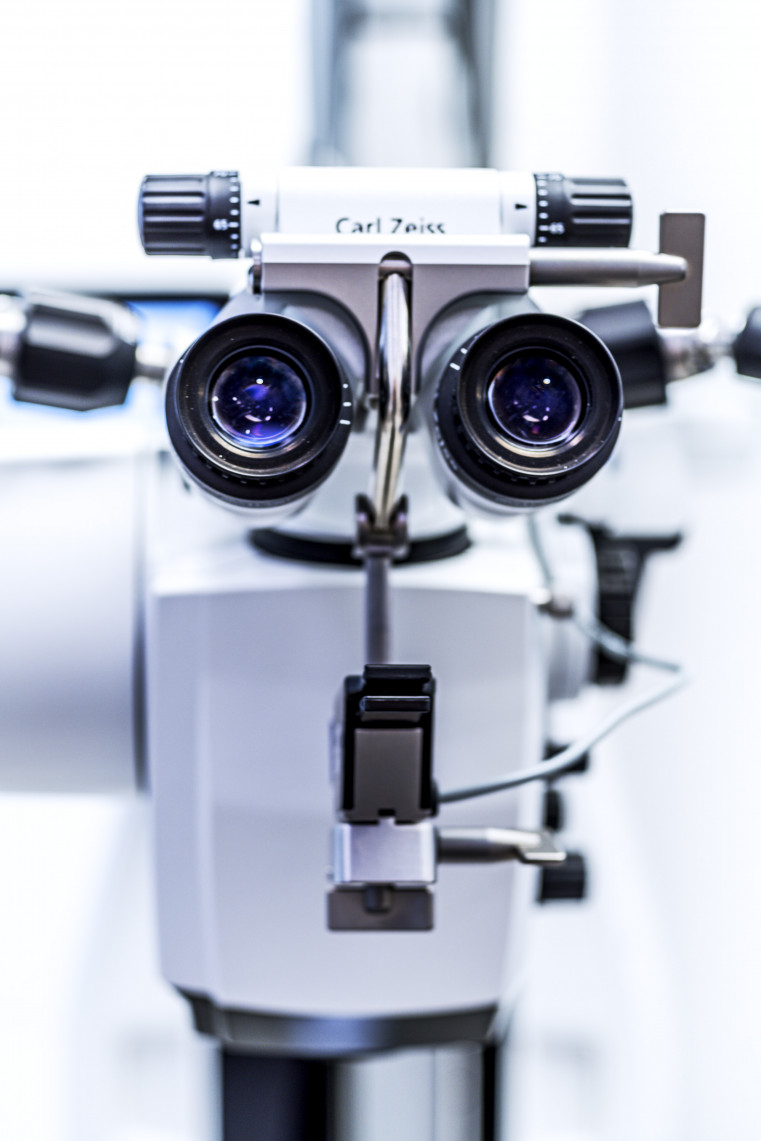 Prof. Andreas Raabe, Dr. Michelangelo Masini, and Frank Seitzinger have invented a completely new visualization system for microsurgical procedures. The invention assists surgeons performing surgery on the spine or brain by automating functions and providing unique insight into the body. The system allows for operations that are shorter and less invasive, while making it possible to obtain the best possible results.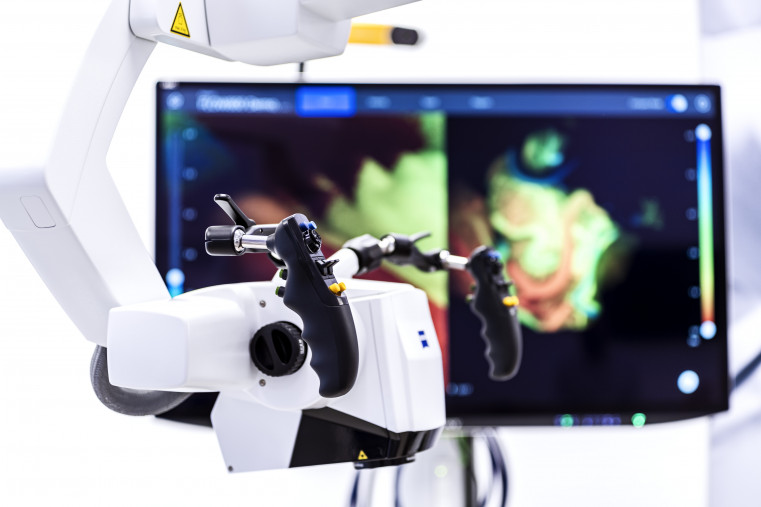 To reach these goals, Michelangelo Masini equipped the robotics-based system with three main innovations. They provide the surgeon and the OR team with all information required to be able to make informed decisions during the procedure. Frank Seitzinger was responsible for the requirements specification and the system's market launch. Andreas Raabe supported development during all project phases as a partner with clinical experience.
Michelangelo Masini heads the Research and Development division at Carl Zeiss Meditec in Oberkochen and is specifically responsible for visualization systems. Frank Seitzinger is head of the Visualization segment at the company. Andreas Raabe is Director of Neurosurgery at Inselspital University Hospital Bern.
The number of spine and brain surgeries is constantly increasing. Aneurysms or vascular malformations are occluded by using a clamp. Tumors of the brain must be removed – a complex and demanding procedure in which it is imperative to remove tumor tissue completely and precisely while fully maintaining brain function. This is where highly specialized surgical microscopes help. They provide a direct view of and into the surgical area. However, to be able to keep the surgical site in view at all times, the surgeon must repeatedly adjust the microscope – which is done by hand on conventional equipment and takes up a good portion of the physician's operating time and attention. In addition, bending over to look into the eyepiece often puts a strain on the surgeon's back and neck.
The scientists and developers at Carl Zeiss Meditec have overcome these former limitations with an innovative visualization system. Its integrated robotics technology makes the system move automatically. In addition, the system can memorize important locations in the surgical site and enables users to direct the microscope to travel exactly to that spot at any time at the push of a button. This helps, for example, in detecting the source of bleeding. And: thanks to the microscope's automatic positioning feature, surgeons never have to interrupt their workflow and are able to keep their hands on their instruments.
In a second innovation, the nominees have developed and implemented the concept of digital hybrid visualization and the use of augmented reality – the enhancement of the real view by superimposed virtual information. For the first time, it is now possible to observe the surgical field either through the eyepiece as in the past or using exoscopic visualization, an ultrahigh resolution digital image on a monitor. The systems improves the ergonomic posture of surgeons, enabling them to perform their work in a concentrated and relaxed manner. Certain brain structures can also be highlighted, combined with fluorescence images or superimposed with the operation plan to help the surgeon recognize the exact tumor outline. The images can also be displayed on several monitors so that not only the surgeon but also the other members of the OR team always have current live images of the surgical field throughout the procedure.
To consult specialists or teach medical students, the images can also be streamed live in high quality or recorded.
The third innovation of the ZEISS KINEVO 900 is a microinspection tool that can be plug-and-play connected with the visualization system, making the new system virtually capable of looking around corners while the optics of standard surgical microscopes are limited to the direct line of sight. Thus regions can be seen that are actually obscured by other tissue – a major advantage for both surgeons and patients because it reduces the risk of stressful follow-up operations.
Carl Zeiss Meditec launched the robotic visualization system with its three core innovations and almost 100 other improvements in spring 2017. In the meantime, the platform, which has been registered to date for more than 180 patents in eleven countries, has been approved for clinical use in more than 100 countries. It is used for several hundred thousand neurosurgical procedures every year – at numerous university clinics and an increasing number of specialized surgical centers. Development work on the modular system is still ongoing and has become a driving force in the digitalization of medical imaging – not just in neurosurgery, but also increasingly in other applications, for example, in eye operations. New functions are also added to the platform regularly – most recently, for example, algorithms that use artificial intelligence. They reliably identify certain tissue patterns thereby enabling to differentiate diseased from healthy tissue.
The economic advantage of the innovation is not just found in the sales of surgical microscopes and medical visualization technology with an estimated market volume worldwide of around 750 million euros annually. It is also found in an improvement in the efficiency of the healthcare system: shorter operating times and faster patient recovery thanks to better treatment quality result in much lower costs for all of society.
The right to nominate outstanding achievements for the Deutscher Zukunftspreis is incumbent on leading German institutions in science and industry as well as foundations.
The project "Robotic Visualization System - Efficient and effective surgical procedures" was submitted by Deutschen Patent- und Markenamt.
Federal President Frank Walter Steinmeier will present the 24th German Future Prize to one of the three nominated teams on November 25, 2020.
More Details
Resume
Prof. Dr. Andreas Raabe
07.05.1963

Born in Annaberg-Buchholz, Germany

1981

Abitur at the Extended Secondary School in Annaberg

1984 - 1986

Studies of dentistry at the Friedrich Schiller University Jena

1986 - 1990

Studies of human medicine at the Medical Academy Carl-Gustav Carus, Dresden

1990 - 1997

Neurosurgery training at the Chemnitz Clinic

1992

Doctorate in neurosurgery (degree: Dr. med.)

1994

European Primary Examination of the European Association of Neurosurgical Societies

1996

Certification as a neurosurgeon

1997

International fellowship of the German Research Foundation (DFG), Cambridge, UK

1997 - 1999

Assistant Medical Director at University Hospital Leipzig

1999

Clinical Observer, Barrow Neurological Institute, Phoenix, USA

1999 - 2008

Assistant Medical Director and Deputy Medical Director of the Department of Neurosurgery at the Johann-Wolfgang-Goethe University, Frankfurt am Main

2002

Habilitation and Venia Legendi

2005

Adjunct Professor, Department of Neurosurgery, Johann-Wolfgang-Goethe University, Frankfurt am Main

since 2008

Professor and Medical Director, Head of the Department of Neurosurgery at Inselspital, Bern University Hospital, Switzerland
Further Occupations
2002

Development of Indocyanine-Green Videoangiography with ZEISS (Oberkochen) and introduction to neurosurgery

2013

Development of dynamic continuous mapping during brain surgery with Inomed Medizintechnik GmbH (Emmendingen) and introduction to neurosurgery

2018 - 2020

President of the Swiss Society of Neurosurgery

since 2019

Chair of the Vascular Section of the European Society of Neurosurgery

since 2019

Member of the Board of Trustees of SIRIS - Foundation for Quality Assurance in Implant Surgery
Honors and Awards
1990

Science Prize "Robert Ganse" for young scientists of the Medical Academy Carl-Gustav Carus, Dresden

1999

"Wilhelm Tönnis" Prize of the German Society for Neurosurgery

2004

Outstanding Scientific Award, American Assosication of Neurological Surgeons for the development and investigation of ICG angiography

2015

University of Shreveport International Woodard Lecture

2016

Industry Award of Messe Hannover Fair with Inomed Medizintechnik GmbH for the probe for dynamic mapping during brain surgery

2019

American Academy of Neurological Surgery

2019

European Lecture Award of the European Society of Neurosurgery
Dr.-Ing. Michelangelo Masini
08.12.1980

Born in Rome, Italy

2000

Abitur at the Independent Waldorf School Esslingen

1997 - 2004

Freelance IT consulting, IT development and development of office applications

2001

Industrial internship at Robert Bosch GmbH, Stuttgart-Feuerbach

2001 - 2008

Studies of electrical engineering and information technology at the University of Stuttgart, degree: Diplom-Ingenieur

2007

Internship in the research and development department at IBM Deutschland GmbH, Böblingen

2008 - 2012

Engineering Doctorate at the Institute for Electrical and Optical Communications Engineering, Graduate School of Excellence advanced Manufacturing Engineering GSaME, University of Stuttgart / IPA Fraunhofer

2004 - 2015

Entrepreneur, Stuttgart
Own company for electrotechnical developments and consulting with the focus on special machines in automation technology

2012 - 2015

Manager Electronics and Embedded Systems professional Sweepers und Scrubbers bei Alfred Kärcher GmbH & Co KG, Winnenden
Responsible for process development and introduction, development and introduction of a new software architecture, support of external development service providers and research partners

2015 - 2016

Head of Digital and Video Technology Development at Carl Zeiss Meditec AG, Oberkochen
Development of components with focus on electronics and embedded systems

2015 - 2016

Head of Neuro Development at Carl Zeiss Meditec AG, Oberkochen
Responsibility for digital systems, responsibility for overall development of the neuro-operative microscope

since 2016

Head of Research & Development at Carl Zeiss Meditec AG, Oberkochen
Responsibility from research to mass production readiness of products from visualization in microsurgery and ophthalmology as well as phaco/vitrectomy

since 2019

Head of Research & Development Visualization at Carl Zeiss Meditec AG, Oberkochen
Global responsibility for innovation in the Visualization division, cross-location organizational and cultural as well as standard and process development
Further Occupations
2004 - 2007

Voluntary work as a member of the board of directors of the Stuttgart student body

2006 - 2007

Voluntary work as a member of the administrative board of the Stuttgart student body

2010 - 2012

Voluntary work as representative of the doctoral students of the GSaME, committees: board of trustees, general assembly, organisation GSaMEing 2012, foundation FRaME e.V.
Honors and Awards
2008 - 2012

DFG (German Research Foundation) scholarship holder in the doctoral programme of the Graduate School of Excellence advanced Manufacturing Engineering GSaME, University of Stuttgart, additional interdisciplinary training programme with 96 ECTS (business studies, mechanical engineering, computer science)

2010

Best Paper Award for "Wireless field bus communication with software defined IR-UWB in a manufacturing environment. 5th International Conference on Ultrawideband and Ultrashort Impulse Signals (UWBUSIS)"
Frank Seitzinger, MBA
09.02.1975

Born in Ansbach, Germany

1995

Abitur at Platen Grammar School, Ansbach

2000 – 2002

Undergraduate studies in biology, human and movement physiology at the University of California, Berkeley, USA, degree: Bachelor of Science

2002 – 2003

Hospital Respiratory Laboratoy Technician at the University of California, San Francisco, USA

2004

Administrative employee at Medical Data Exchange, Long Beach, USA

2004 – 2008

Quality and Project Manager at the University of California, San Francisco, USA

2006 – 2008

Graduate studies in business administration at the University of San Francisco, degree: MBA - finance and marketing

2008 – 2009

Product Manager and Sales Manager Germany at nSpire Health, Oberthulba

2009

Head of Sales EMEA at nSpire Health, Oberthulba

2010 – 2015

Director Global Marketing, Site Manager and Authorized Signatory at CareFusion Germany 234 GmbH, Höchberg

since 2015

Head of the Business Sector Visualization at Carl Zeiss Meditec AG, Oberkochen
Further Occupations
2008

Membership Beta Gamma Sigma

2010

White Belt, Lean Six Sigma
Contact
Press
Sarah Hailer
Manager Media Relations
ZEISS Gruppe
Phone: +49 (0) 7364 / 20 87 740
E-Mail: sarah.hailer@zeiss.com
Spokesperson
Prof. Dr. med. Andreas Raabe
Neurochirurgische Universitätsklinik
3010 Bern
Phone: +41 (0) 31 / 63 20 014
E-Mail: juliane.reuter@insel.ch
A description provided by the institutes and companies regarding their nominated projects
Improving Medicine through Robotics and Multi-Layered Augmentation
Robotic Visualization System improves efficiency and effectiveness of surgical procedures
The global population is growing and with it the average life expectancy. An older population requires more medical treatment and according to some studies, by 2030, 5 billion humans will have access to advanced medical care. Healthcare systems across the world can only address this growing demand if they become more efficient and effective. Modern technology, such as digital tools and AI, supports healthcare providers with these treatment modalities. ZEISS KINEVO 900 has done exactly that for the fields of spine and neurosurgery, introducing robotics, digital visualization and advanced augmentation.
Shorter OR times, less invasive procedures and faster recovery times are key aspects that healthcare systems today, but even more so in the future, will require to cope with this growing need. A key enabler are innovative technologies and treatment modalities, which give healthcare providers the necessary information to make the best informed decisions for their patients, before, after and especially during the microsurgical treatment.
The Robotic Visualization System® ZEISS KINEVO® 900 made a significant step in addressing the needs of surgeons dealing with complex and difficult procedures affecting the lives of their patients. Consisting of more than 100 innovations and 180 patents, the system combines robotics, digital visualization and advanced assistance solutions to give the provider as much information as possible to improve the outcome of the treatment. The development team collaborated with global clinical partners to define and develop a 3-in-1 system that unifies microscopic, exoscopic and endoscopic components to optimize the tool set of the surgeon.
Scaling Efficiency and Effectiveness with Innovation
Surgical microscopes are constantly in motion during a procedure to visualize all aspects of the surgical field. Through automation and robotics, ZEISS KINEVO 900 replaces unwanted manual adjustment with robotics movement, reducing cumbersome disturbances for the user workflow. Recalling saved positions at the press of a button allows the surgeon to return to a point of interest quickly, which might be helpful in case of bleeding. This advanced feature provides the surgeon with the saved focus, working distance and magnification – with minimal user interaction. Pivoting around a fixed point with the help of a foot control panel allows users to keep their hands in the surgical field and concentrate on their task. All surgeons prefer to use their hands for their tools, avoiding any interruption to their workflow – robotics makes this a lot easier now. In sum, surgeons have a companion who supports them in their surgical procedures, but with the surgeon still being in full control.
Modern visualization technology is at the brink of a major shift, from classical optical to fully digital. Driving this change are modern augmented reality innovations, such as overlaid surgical approaches or highlighted tissue structures, that can be shown on 4K 3D monitors. The new digital environment further allows for the extraction of information from the image – for overlays of fluorescence images or intraoperative visualization of blood flow – to increase surgical insights during the procedure. More information means better informed decision making and a potentially more effective treatment for the patient. Student doctors, OR staff and other doctors also benefit from the new digital OR. They can be much more deeply involved in the procedure, learning, assisting and supporting the case to drive better outcome.
Traditional visualization tools, such as surgical microscopes, were limited to direct line of sight to see hidden structure, the surgical workflow had to be interrupted to bring in other modalities. With the plug-in tool QEVO® from ZEISS, the ZEISS KINEVO 900 has a micro-inspection tool tailored to the microsurgical use case, allowing the surgeon to look around corners. Seeing behind a treated aneurysm to ensure the clip is placed correctly or looking up into a tumor cavity to ensure no unhealthy tissue is left over, are just two examples of what is possible. Prior to ZEISS KINEVO 900 this was only possible with more time-consuming measures. 
With many more innovations inside, the system intends to make the daily work of surgeons across the globe easier and hopefully support a better outcome – also in the most critical situations. 
In Use Across the Globe
Many institutions have acknowledged the benefits of the Robotic Visualization System to make surgical treatment more effective and efficient. Since the introduction of ZEISS KINEVO 900 in the spring of 2017, the system has achieved regulatory approval in more than 100 countries and over 300,000 surgical procedures are performed with them each year. In Germany alone, the system can be found in almost all major academic institutions, with an ever-growing number of surgical wards being equipped with them.
Prof. Dr. Andreas Raabe was part of the development of the new system from the conceptual phase all the way through to the clinical evaluation period. He was a crucial partner in giving invaluable insights for the transfer of the technology into clinical practice and was a key stakeholder behind some of the innovative fluorescence technologies. Like other clinical partners he worked closely with the innovations team Dr. Michelangelo Masini set up to achieve commercialization readiness. Frank Seitzinger, as the head of the business sector, had the responsibility to ensure all relevant market needs got translated into product requirements and later for a successful market introduction. The three led an international realization team of more than 300 engineers, scientists and project team members, as well as external partners. They managed to make ZEISS KINEVO 900 a global industry leading success story that is valued by many healthcare providers and institutions.
An Innovation Ready for the Future
With ZEISS KINEVO 900, the company introduced a highly innovative product to the market, which supports surgeons in their daily work and gives them encompassing insights into anatomical and functional structures. Improvements, doctors as well as patients can benefit from.
Today the system is mainly used in neuro- and spine surgery, two disciplines with a big need for intelligent assistance systems. In many cases new innovation finds acceptance here first before scaling to other medical disciplines. The benefits of digital hybrid visualization will certainly be seen in other microscopic applications in the near future.
ZEISS KINEVO 900, a future-proof platform, will be further improved and expanded, with the first technologies already available today. Sharing images via streaming technologies and using AI algorithms to recognize patterns are just a few features that recently became available. Tying all of this into treatment modalities along the tumor workflow will again provide more information to the surgeon for better intraoperative decision making. Constantly striving for value-adding innovations is a central part of the ZEISS DNA, and the company will continue to offer their customers leading technologies to improve patient outcome. 
Carl Zeiss Meditec AG
Carl Zeiss Meditec AG (ISIN: DE 0005313704), which is listed on the MDAX and TecDAX of the German stock exchange, is one of the world's leading medical technology companies. The Company supplies innovative technologies and application-oriented solutions designed to help doctors improve the quality of life of their patients. The Company offers complete solutions, including implants and consumables, to diagnose and treat eye diseases. The Company creates innovative visualization solutions in the field of microsurgery. With 3,232 employees (as of 30 September 2019) worldwide, the Group generated revenue of €1,459.3m in fiscal year 2018/19 (as of 30 September).
The Group's head office is located in Jena, Germany, and it has subsidiaries in Germany and abroad; more than 50 percent of its employees are based in the USA, Japan, Spain and France. The Center for Application and Research (CARIn) in Bangalore, India and the Carl Zeiss Innovations Center for Research and Development in Shanghai, China, strengthen the Company's presence in these rapidly developing economies. Around 41 percent of Carl Zeiss Meditec AG's shares are in free float. The remaining approx. 59 percent are held by Carl Zeiss AG, one of the world's leading groups in the optical and optoelectronic industries.
For further information visit: www.zeiss.com/med
The Insel Gruppe
Insel Gruppe is Switzerland's leading hospital group for university and integrative medicine. It offers comprehensive healthcare based on pioneering quality, research, innovation and education. The group's six locations (Inselspital, Aarberg, Belp, Münsingen, Riggisberg and Tiefenau) provide approximately 864 000 consultations and treat more than 65 000 in-patients per year. Insel Gruppe employs a staff of nearly 10 800 from 100 nations. It provides training for a wide range of professions and is the leading institution for further education for young physicians.
The right to nominate outstanding achievements for the Deutscher Zukunftspreis is incumbent on leading German institutions in science and industry as well as foundations.
The project "Robotic Visualization System - Efficient and effective surgical procedures" was submitted by Deutschen Patent- und Markenamt.
Federal President Frank Walter Steinmeier will present the 24th German Future Prize to one of the three nominated teams on November 25, 2020.