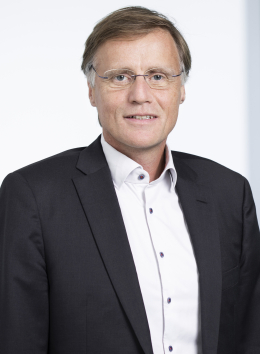 CEO, Infineon Technologies AG
"Every generation faces particular challenges and makes history in one way or another. Our generation has to tackle the climate crisis and we want to shape the digital transformation for the benefit of people. Innovation is key and semiconductors are the critical building blocks to drive decarbonization and the digitalization of our world. At Infineon, we are enabling a climate-neutral economy and we are connecting the real world with the digital world.
New technologies are more important today than ever before to master the major challenges facing our society. In Germany, we need forward-looking ideas and courageous people to implement them. With the Deutscher Zukunftspreis, the Federal President honors outstanding innovations that make life better. The award showcases concrete applications and makes technical progress visible and tangible for people. It is an important signal for our society: Technology is the lever for a sustainable future.
For Germany to continue to play a pioneering role as a center of innovation, we need above all more open-mindedness and enthusiasm for technology. This is another reason why Infineon is pleased to be involved in the Deutscher Zukunftspreis. We are proud to be able to make a contribution as a partner."