Message from the Federal President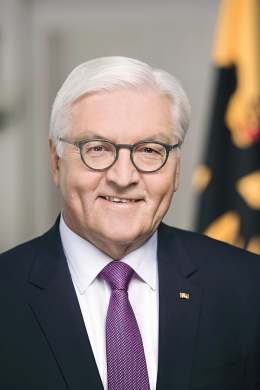 I firmly believe that we can look to the future with confidence despite all the social and political upheaval. And the main reason for this is that many women and men in our country do not regard the future as inexorably preordained, but instead strive to shape it.
These people include the scientists, developers and entrepreneurs who have been nominated for and awarded the Deutscher Zukunftspreis since 1997. They do not complain about problems. Instead, they take them as a challenge. They believe in progress and are willing to try out new things and to take risks to make their ideas successful.
With their outstanding achievements, the nominees help to improve life in our country. Their projects are innovative and academically excellent. They make people's lives better, be this in the future of medicine, construction, transport, energy, robotics or information technology. And last but not least, they often have great economic potential and create jobs.
How do you make groundbreaking inventions? The independent jury of the Deutscher Zukunftspreis faces this very difficult question each and every year. The jury members have repeatedly proven their investigative skills and found prizewinners who can serve as a motivation and inspiration to us all.
The Deutscher Zukunftspreis shows that we can have faith in our ability to design a better future and to put our ideas into practice. With that in mind, let us try out new paths together!