Message from the Federal President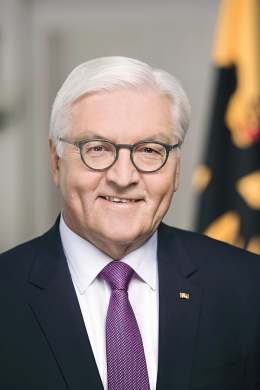 Friends of the Deutscher Zukunftspreis,
The corona crisis has made many people in our country realise once more just how much we need scientific findings, good ideas but also the courage to change course if we want to tackle the major challenges we face and leave a planet behind for our children and grandchildren where they can lead self-determined lives worth living.
The Deutscher Zukunftspreis epitomises this spirit of changing course. Since 1997 it has been awarded to scientists and engineers whose ideas and products help to make our economy more sustainable or to tap the potential of the digital transformation. Whether it's insulation for buildings, robots for microsurgery or optics and lasers for manufacturing computer chips, it is clear that we need technology and innovation to shape tomorrow's world; we need them working to serve our democratic society, to benefit the people.
The corona crisis also illustrated the importance of dialogue between science and society. When researchers can be seen and heard in public, when they explain to us what they are doing and why, when they openly state the limits of their knowledge or correct their position in the light of new findings and in dialogue with national and international colleagues, it does not just increase the trust in their work but it also helps us understand that science is a discursive and infinite process.
The Deutscher Zukunftspreis generates enthusiasm for science and technology and makes innovation real. In this year like no other, I hope it will help keep alive the will to change course in our society. I firmly believe that we need this will if we are to change our future for the better through democratic means.
My sincere congratulations to all winners of the Deutscher Zukunftspreis!