Message from the Federal President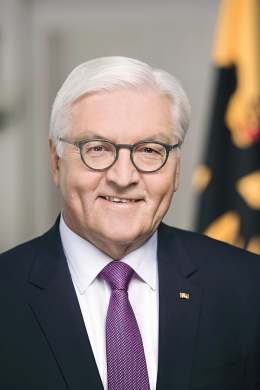 Friends of the Deutscher Zukunftspreis,
So here we are again! Germany is looking for the winners of the Zukunftspreis. The same procedure as every year, you might say. However, just as you cannot step into the same river twice, as the saying goes, the pioneering innovations and research findings of the nominees over the past 25 years, from robotics to materials research, from software development to biochemistry, have all been quite different. The future also remains in flux.
All of the projects have one thing in common, however, namely they have shifted the boundaries of human knowledge and turned exciting ideas into tangible applications that make our lives better. In short, they are taking our country into the future.
The Deutscher Zukunftspreis is therefore a prize that inspires us with confidence – confidence that research and development will fall on fertile ground in our country and that great ideas will give rise to great innovations. Confidence that we do not have to let the major challenges of our time simply wash over us, but can shape them thanks to the findings of basic and cutting-edge research. Confidence that our future is in our own hands, also in times of the pandemic and climate change, and that new ideas will be embraced by an open society.
The nominees of the 2021 Deutscher Zukunftspreis are also making the world a better place with their ideas. They are whetting our appetites for the future. Thank you very much for this.
Congratulations to all of the award winners!