Else Kröner-Fresenius-Stiftung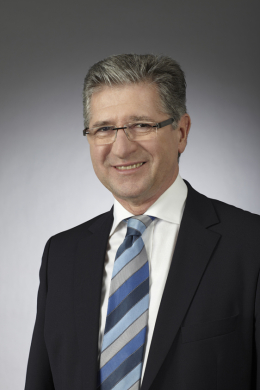 Member of foundation council of the Else Kröner-Fresenius-Stiftung
Albert Einstein once said: "My interest is in the future because I am going to spend the rest of my life there." Supporting the Deutscher Zukunftspreis is a matter very close to our hearts at the Else Kröner-Fresenius-Stiftung (EKFS). This is because the foundation also supports research projects – very much in keeping with the intentions of its founder Else Kröner – which can be of fateful significance for the future of humanity. "If I don't do it, then who will?" is how Else Kröner expressed her commitment to medical progress and health and wellbeing for the good of mankind.
She bequeathed all her assets including her shares in the Fresenius healthcare company to the non-profit Else Kröner-Fresenius-Stiftung she established in 1983. The foundation is dedicated to advancing medical research and to supporting medical humanitarian aid in the developing world. The most important criterion in choosing a project to support for the foundation is its future impact for people.
Although medical research has developed or paved the way for efficient forms of treatment for many diseases, there are still numerous areas in which even modern medicine is inadequate to alleviate suffering. The EKFS sees its primary task in increasing the store of knowledge on the causes, diagnostics and treatments of diseases for the benefit of all.
Innovative science and technology are the core of our society. The Deutscher Zukunftspreis prizewinners and nominees are proof of the phenomenal power of innovation in Germany. They are examples of what can be achieved with courage, enthusiasm, creativity and the joy of discovery – as has been demonstrated by entrepreneur and founder Else Kröner.
Progress when dedicated to the right topics will relieve pain and hardship and considerably improve standards of living around the world. This is why we are convinced of the importance of supporting the Deutscher Zukunftspreis.