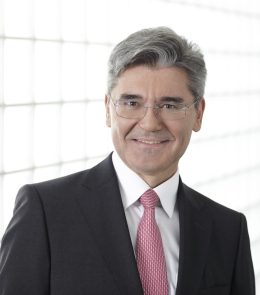 President and CEO of Siemens AG
"Innovations create prosperity and sustainable competitiveness. Innovative products are more profitable, and the higher returns in turn allow companies to invest more: in research and development, in factories, growth, and jobs. But is it possible to promote innovation? What makes innovative companies different?
A look at Switzerland, Singapore, the Scandinavian countries, the USA and, of course, Germany can help - for these are the countries that regularly rank high on the list of the innovation indicators of the Federation of German Industries. Obviously, the interaction between excellent scientific and academic institutions, innovative companies, an appropriate regulatory framework and a social climate that promotes new developments is as it should be. All of these factors are not a given - and this is something that should be emphasized.
Crucial to society's acceptance is the appreciation given inventors and innovators and innovative companies. It is here that the Deutscher Zukunftspreis, the German President's Award for Innovation in Science and Technology, plays an outstanding role. This prize shows the general public how important innovations are to the competitiveness of our country.
It was Werner von Siemens who said: "Ideas are of little value in themselves. The value of an invention is in its practical application." It is precisely this translation into a marketable product that is at the heart of the Deutscher Zukunftspreis. Researchers and engineers at Siemens have already won this prestigious award for innovations four times - in such different fields as bio-chips, piezo-electric injectors for the automotive industry, light-emitting diodes and hearing aids. We take pride in these achievements, and they prove that at Siemens the culture of innovation with its 30,000 researchers and developers and annual investments of over € 6bn in R&D and new machines and equipment is particularly strong.
Yet a position as an innovation leader - for companies and nations alike - must always be competed for and defended. Because the needs of global markets, competitors, and technical requirements are constantly changing and becoming more demanding. The methods are also reinventing themselves: in this day and age, it is not so much about the sudden inspirations of research scientists in laboratories cut off from the outside world, but rather about the interaction with science, fast start-up companies and innovative international key customers.
Performance and innovation determine the fate of our country and are deserving of recognition and support. This is why Siemens is passionate about and convinced of the importance of our role as a partner to the Deutscher Zukunftspreis."