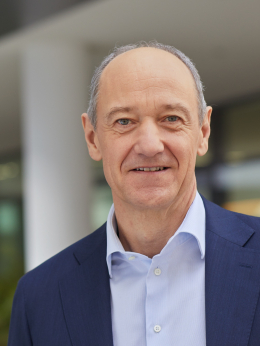 President and CEO of Siemens AG
"Congratulations on the upcoming anniversary: the Deutscher Zukunftspreis will be awarded for the 25th time in 2021. The award is an outstanding example of how researchers can better be supported. Stifterverband and its partners in business, science and government have been presenting the nominated projects since 1997, explaining them for the general public and revealing their value.
We live in times of many and immense challenges of which the fight against climate change is one of the most prominent. I am convinced that we will master these challenges together. Or, on a more positive note: we are standing on the brink of a decade of possibilities if we proceed resolutely and fairly to push digitization and sustainability - backed by all of our innovative strength. Because cutting-edge research and development have always been the breeding ground for progress and thus prosperity.
Research is sustained by freedom, financing and facilitation. Especially important to me is that research needs a focus, a point and a purpose, and it must be anchored firmly in society. I am happy to note that scientists and academics are receiving more recognition these days and that their recommendations are increasingly being heeded.
Siemens is thus happily and greatly committed to being a partner of Deutscher Zukunftspreis for the 25th time."