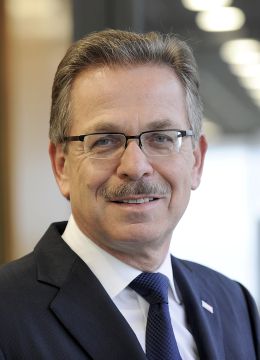 Chairman of the Management Board at Robert Bosch GmbH
"Bosch supports the Deutsche Zukunftspreis on principle because we believe in it. As a leading technology and service company, we use opportunities worldwide to support vigorous and successful advancement. We see it as our challenge to improve the quality of life with innovative and beneficial solutions. We are banking on our core competence in automotive and industrial technology as well as our services for the commercial and private sectors. Of the 242,000 people employed worldwide, approximately 110,000 are employed in Germany, a fact that emphasizes the significance of the location.
A good deal of our company's strength in innovation comes from the R&D division. In 2004, we employed 22,000 people in this division, about 14,800 at locations in Germany, and we spent approximately 3 billion Euros, or 7.2 percent of our turnover on research and development. The 2800 patent applications, about 12 per work day, are a benchmark for what we have achieved already.
An important prerequisite for our innovative strength is the excellent network of scientists and developers within and outside of the company as well as the company's positive attitude towards innovation. Not only is it necessary to maintain and secure the important advantages of having locations in Germany, but we need to expand on them—we feel that it is our corporate and social duty to do so.
This is why we support the Deutsche Zukunftspreis – the President's Prize for Technology and Innovation. The Federal President is pursuing an important goal: He wants to encourage researchers and developers in their curiosity, enthusiasm, and perseverance. He wants to create, maintain and promote a social climate in which innovation is welcomed and scientific excellence is recognized. With this prize he honors high-quality scientific projects that are equally applicable and useful as well as marketable. Together, the Federal President and Bosch, we pay tribute to Germany's qualifications and strengths: Ingenuity and people who dedicate their passion and abilities to their projects. Bosch is taking part because we firmly believe in this endeavor."