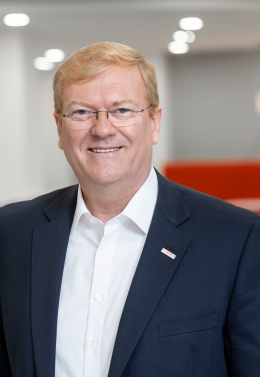 Chairman of the Board of Management of Robert Bosch GmbH
"The Federal President has a clear and important objective with the Deutscher Zukunftspreis: encourage curiosity, enthusiasm, persistence in researchers and developers. He wants to promote a social climate in which innovation is welcomed and scientific excellence is recognized. Our founder Robert Bosch emphasized that technical progress should always serve the good of mankind. This is a principle we still follow today: Bosch is the first global industrial company to make all locations worldwide CO2-neutral. And as a leading provider on the internet of things, we develop innovative solutions for the smart home, Industry 4.0 and connected mobility.
Two paths of development are exemplary of what we understand to be high-tech: on the one hand, we provide technical answers to ecological questions, from electromobility to the fuel cell to the heat pump. On the other hand, we tap into the benefits of Artificial Intelligence (AI). For example, we are working with a partner in the U.S. to use AI as a diagnostic tool in pediatric medicine. AI is also used in our gas sensor which functions like a digital nose to help detect forest fires early and prevent the worst. High-tech – for Bosch that means making people's lives safer, easier and better.
Our company's strength in innovation is based on research and development. In 2021, we employed around 76,300 associates in R&D at 128 locations worldwide, more than 38,000 of them as software developers. An important prerequisite for our innovative strength is the excellent network for researchers and developers within and outside of the company in Germany, Europe, and around the world. Another basic prerequisite is a social environment that assesses not only the impact of technology, but also takes advantage of the opportunities technology presents. Promoting this environment is for us both an entrepreneurial and political task.
With this prize, the Federal President honors high-quality scientific projects that are equally applicable and useful as well as marketable. The prize pays tribute to outstanding results of research that have a very concrete benefits for man in products and services. This is in keeping with our guiding principle to provide "Technology for Life". That is why we are patrons of the Deutscher Zukunftspreis, the President's prize for technology and innovation. Together, the Federal President and Bosch, we pay tribute to one of Germany's greatest strengths: ingenuity and people who dedicate their passion and abilities to make their projects a success."