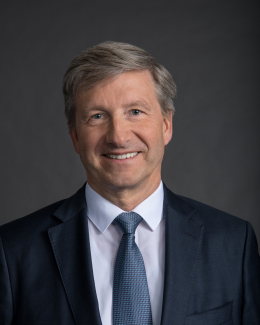 Prof. Dr.-Ing. Axel Stepken
Chairman of the Board of Management TÜV SÜD AG
"Anyone hoping to hold their own against international competition needs to focus systematically and purposely on the subject of innovation. This applies both to companies as well as entire national economies and economic regions. Because innovations cannot be prescribed - they emerge at interfaces, require networking and a constant exchange of all stakeholders. In short: good ideas have to be talked about. Only then can their potential be used to shape the future.
The Deutscher Zukunftspreis, the Federal President's Award for Innovation in Science and Technology, ensures that this plays an important part in this process. It is a distinction and motivation for participating research scientists and anyone contributing to further innovation in the world with their ideas and developments and particularly a beacon of light that shines on the viable future of Germany. We at TÜV SÜD are proud to make a contribution as a sponsor of the prize.
Our commitment to the Deutscher Zukunftspreis is a logical step because technical progress influences our company in a unique way - and TÜV SÜD paves the way for innovations and their acceptance in society. For one thing, we as a company repeatedly face the challenge of developing new and promising services and of offering them to our customers. Moreover, - and this has been at the foundation of our business for almost 150 years - as a provider of technical services, we support the innovations of our customers. We help them design high-quality and safe products. This is how we create the important requirements for the success of product innovations on the market - this was true in 1866 for vapor pressure technology and is still true today when it comes to topics such as e-mobility, renewable energy, data security and many others that propel our society forward.
Many of our 20,000 employees worldwide are passionate engineers: every day they - together with our customers - look at new developments and trends in order to create added value, guarantee quality - and not least of all to minimize risks and thus to protect man and the environment. In this way, innovations turn into true progress - and safety is included."