For anyone born without a hand or who loses a hand at some point in life, a functional replacement is found in modern prosthesis. However, it is difficult for children, youths and people with small hands or for those who are only missing part of the hand. Until recently, there were no suitable high-tech prostheses for them. How can they now be helped?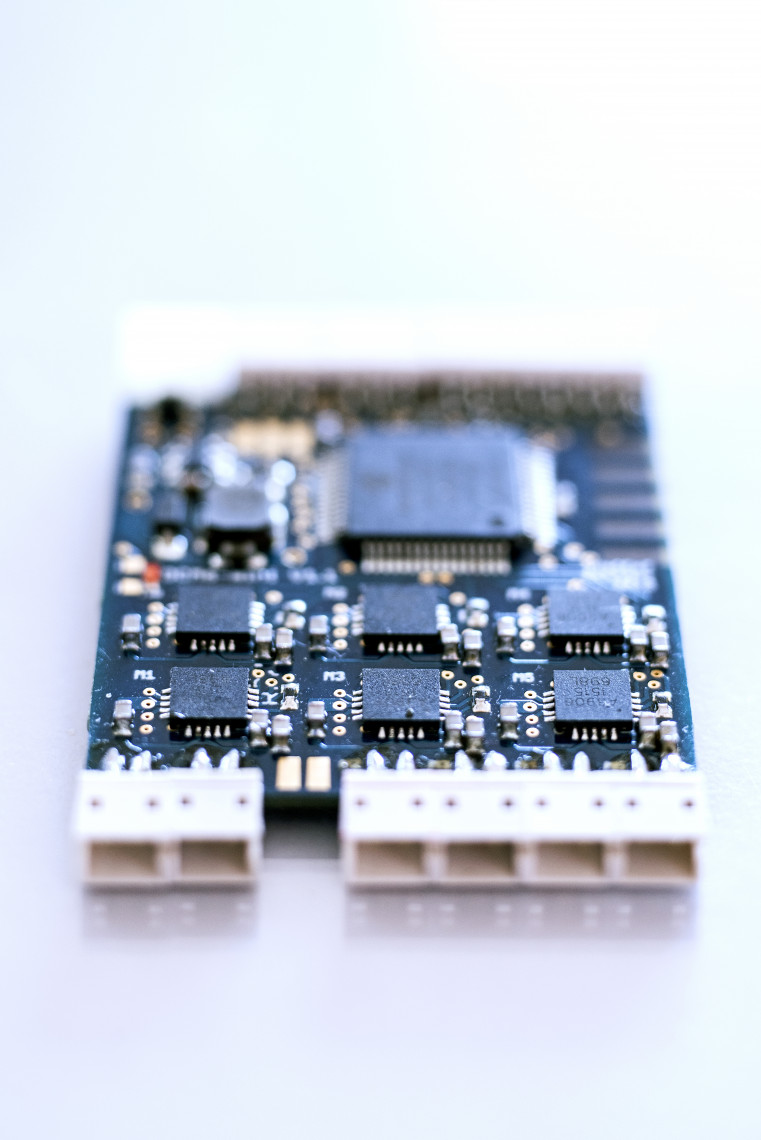 Dr.-Ing. Stefan Schulz, Dipl.-Ing. Adrian Andres und Matthias Baßler, M. Sc., have come up with a solution. They have developed new lightweight and small hand prostheses that can also be used for children and teens - as well as a modular prosthetic system capable of replacing individual missing fingers or part of a hand. The innovative bionic prostheses are also the first worldwide to be produced in series and include an artificial sense of touch that give wearers haptic impressions and a sense of forces. The three nominated researchers work at Vincent Systems GmbH. Stefan Schulz is the founder and Managing Director, Adrian Andres and Matthais Baßler are development engineers.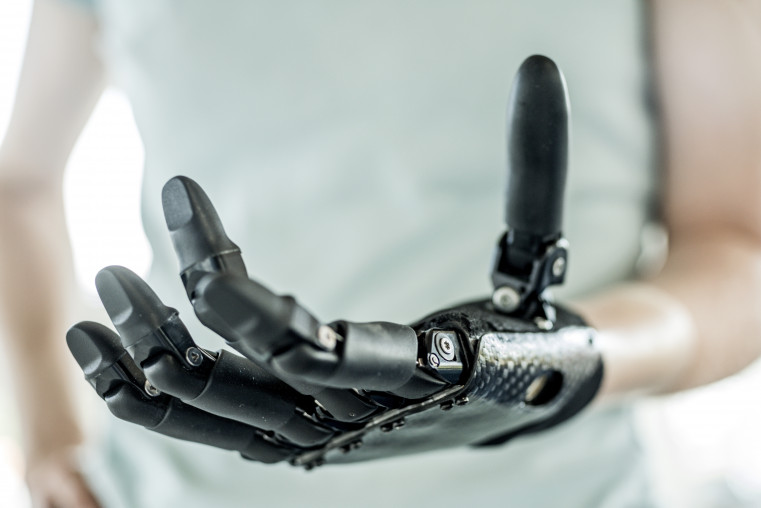 Every year around 10,000 people worldwide are fitted with an electronically-controlled prosthetic device. But: many people have not had access to this type of a technical hand replacement until recently. The high-tech prostheses available in the past were too heavy and too large and could not be used by children and teens and people with small and slender hands. Another factor is the comparatively large number of people who are only missing individual fingers or a partial hand and were previously only provided with passive cosmetic prostheses. The modular system for bionic partial hand prostheses developed by the three scientists from Karlsruhe overcomes these limitations.
At the core of the innovation is the world's smallest single finger prosthetic device with miniaturized motors. The active fingers and thumbs in different sizes together with frame elements form a very flexible, modular system that can be adapted to the individual residual limb of a user. By using durable lightweight materials and by optimizing the shape with the help of software, the new system is much lighter than other products without sacrificing stability: the hand prostheses weighs almost the same as a human hand. This simplifies its day-to-day use.
An anatomically correct shape and natural appearance were especially important to the developers. Unlike the standard silicone glove common to most prostheses, this artificial hand has a rubberized surface, giving the prosthetic system haptics and a secure grasp. The integrated artificial sense of touch is also new. It provides the user with sensory feedback on the forces exerted. The gripping power is converted into perceptible slight vibrations. The artificial tactile sense is what allows the prostheses to react very sensitively and also to grasp an object confidently without looking at it. It can also help to ease any phantom limb pain. Electrical signals from the muscles control the prostheses, allowing it to execute predefined grips. Other systems require additional devices to be able to select all types of grips. Using the new assistance-free control concept, however, allows all available grips to be selected only by means of muscle signals.
The technology is protected by several patents and has already been introduced to the market successfully. Vincent Systems sells hand prostheses for various levels of care, plan categories and hand sizes, including a high-tech hand with individual movable fingers designed specifically for children and teens. Vincent prostheses are already being supplied to orthopedic workshops in Germany, Europe and the USA. In supplying the smallest adult hand, the children's hand and the partial hand system, many more people can be served than was possible with the previous hand prostheses. Long-term plans include the development of a worldwide sales network and setting up dedicated supply and training centers delivering prostheses to patients and training prosthetists specifically for the challenge of partial hand care. The newly developed technologies also have other potential uses, such as in medical orthoses to support people with paralysis following a stroke to return to active day-to-day function.
more details
Resumes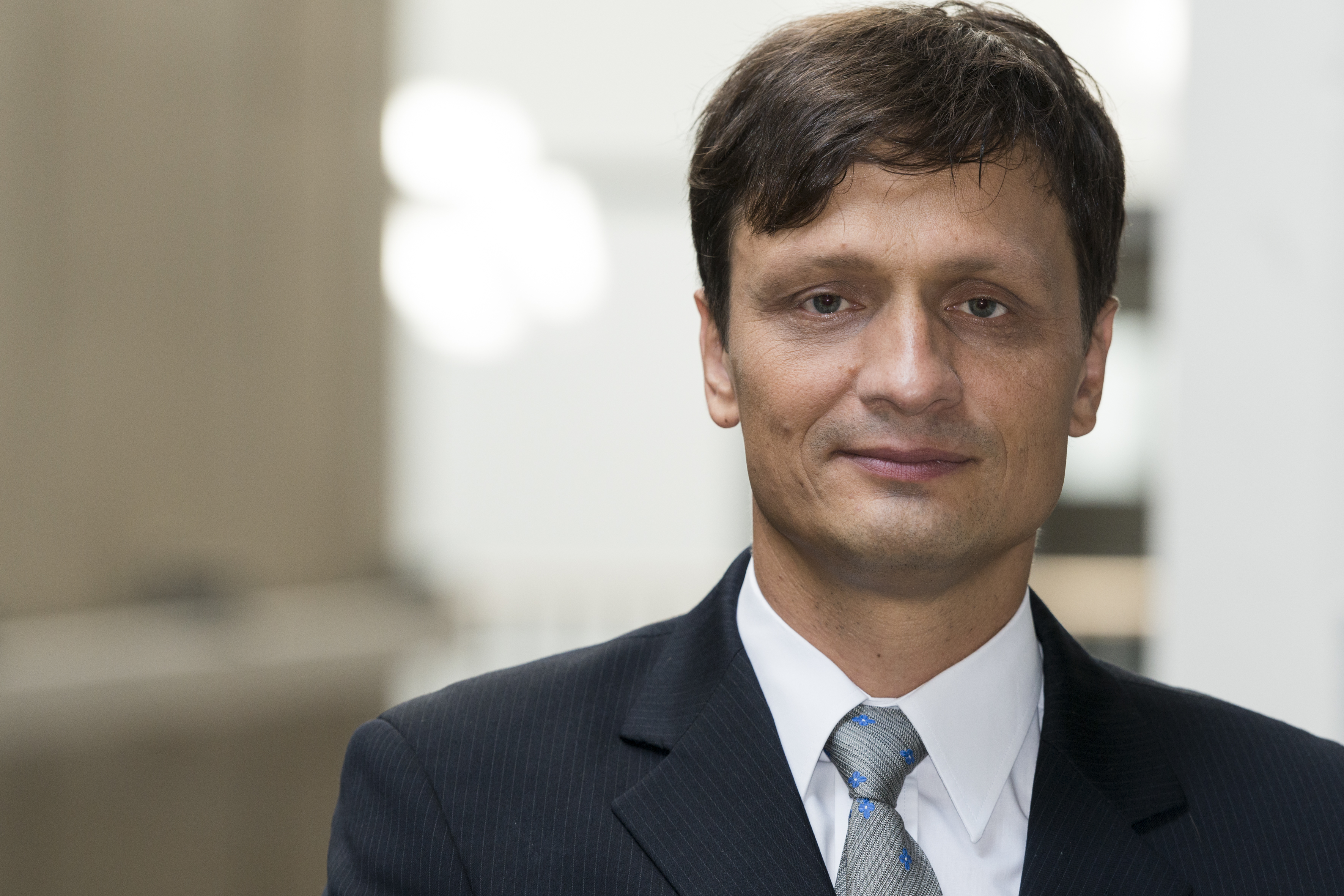 Dr.-Ing. Stefan Schulz
3/5/1971

Born in Rostock

1987 – 1990

High school diploma and vocational training for qualification as skilled electronics worker, Higher Vocational School, Deutsche Seereederei Rostock

1990 – 1991

Caregiver in a retirement and nursing home

1991 – 1992

Mariner and machinist on the cruise liner MS ARKONA
1992 – 1997

Electrical Engineering studies at University of Rostock

1998 – 2000

Research associate at Karlsruhe Institute of Technology, KIT

2000 – 2012

Head of an interdisciplinary research group at KIT in the area of Medical Engineering

2003

Doctorate at University of Karlsruhe, Faculty of Mechanical Engineering

2007 – 2012

Director of the Steinbeis Advisory Center SBZ Fluid Engineering, Medical Engineering

2009

Founder of Vincent Systems GmbH

as from 2009

Manager, Head of Research & Development, Vincent Systems GmbH

2015

Founder of GF. glove factory UG

as from 2015

Manager, Head of Research & Development, GF glove factory UG
Awards
2003

Dr. Höfler-Doktorandenpreis, class-best doctoral thesis at the Faculty of Mechanical Engineering with cybernetics background, TU Karlsruhe

2005

Innovation Award of the Federal Ministry for BMBF, innovations from nature, bionic colonoscope system for less invasive colonoscopies

2005

Felix Burda Award – Special Award for special dedication to the development of progressive technologies in the area of prevention of stomach and intestinal cancer

2005

Scientific Award 2005 BMW Group – 1st place doctoral thesis, Bionic prosthetic hands

2013

German Business Innovation Award 2012/2013: Finalist in the category of start-up, Vincent Systems GmbH

2013

Cyber Champion – Innovation Award 2013/2014, first prize for the innovative products of the junior start-up company Vincent Systems GmbH

2014

German Design Award 2014, Winner, Award for exceptional design of the prosthetic hand VINCENTevolution2

2014

Design award of the Federal Republic of Germany, Silver, outstanding design concept and implementation into an innovative product, prosthetic hand VINCENTevolution2

2016

Innovation Award Baden-Württemberg, Dr.-Rudolf-Eberle Award, first prize for exemplary performance of Vincent Systems GmbH in the development of innovative products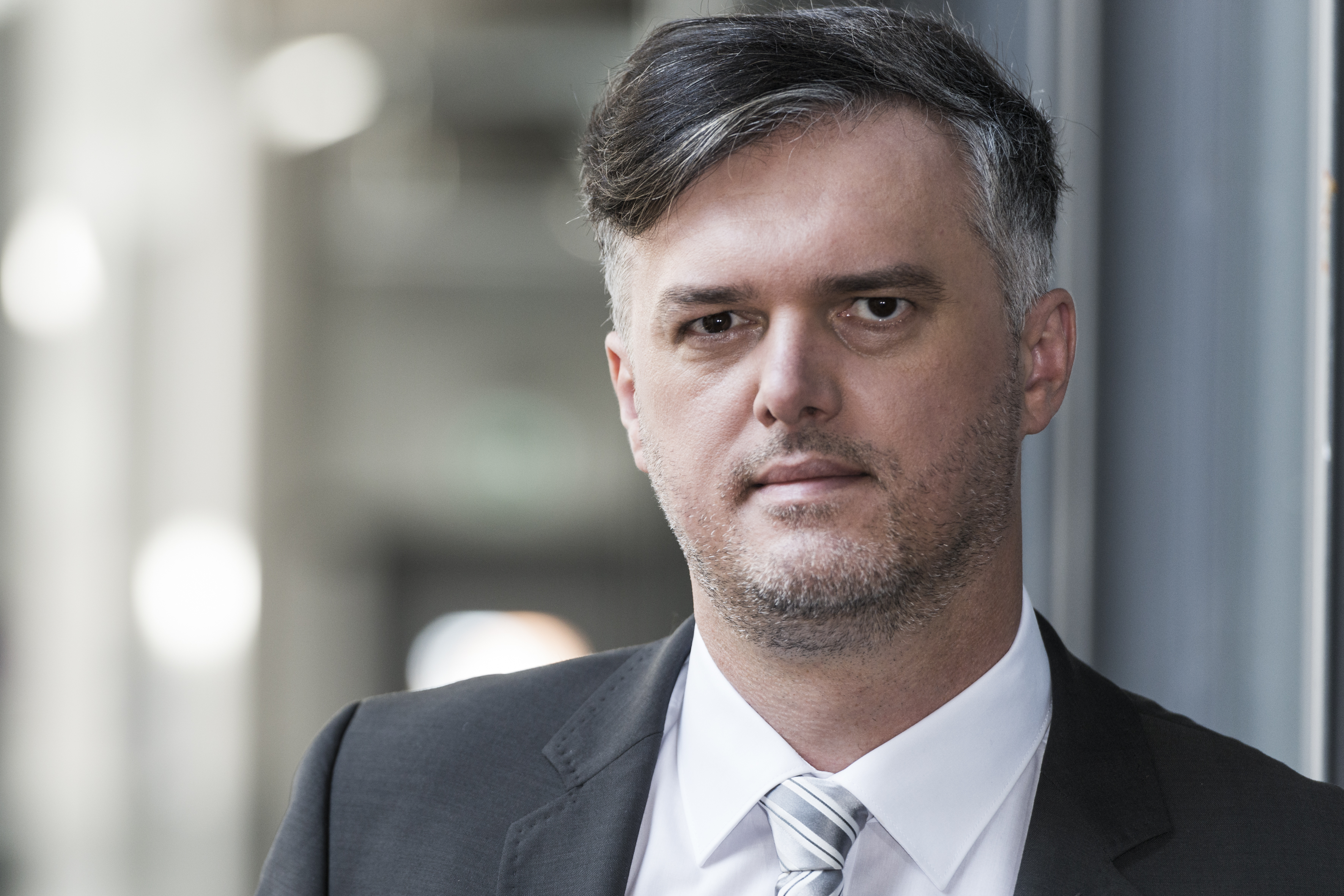 Dipl.-Ing. Adrian Andres
5/30/1977

Born in Kattowitz

1993 – 1995

Intermediate School Certificate, Berufsfachschule, Karlsruhe

1995 – 1998

High school diploma, Technisches Gymnasium, Karlsruhe

1998 – 2000

Eurocorps, cadre soldier in the multinational corps, Strasbourg

2000 – 2011

Degree course in Mechanical Engineering, University of Karlsruhe
2003 – 2011

Freelance worker, industrial and outdoor advertising agency Markus Luithle, Karlsruhe

2004 – 2005

Student employee, Metz Aerials GmbH Co. KG, Karlsruhe

2004 – 2009

Freelance worker design and planning firm P.S. Boulis Ing. GmbH, Cologne

2009 – 2011

Student employee, KIT, Karlsruhe

2011 – 2013

Research associate, Karlsruhe Institute of Technology, KIT

2014

Development engineer, construction and simulation, Vincent Systems GmbH, Karlsruhe
Awards
2016

Innovation Award Baden-Württemberg, Dr.-Rudolf-Eberle Award, first prize for exemplary performance of Vincent Systems GmbH in the development of innovative products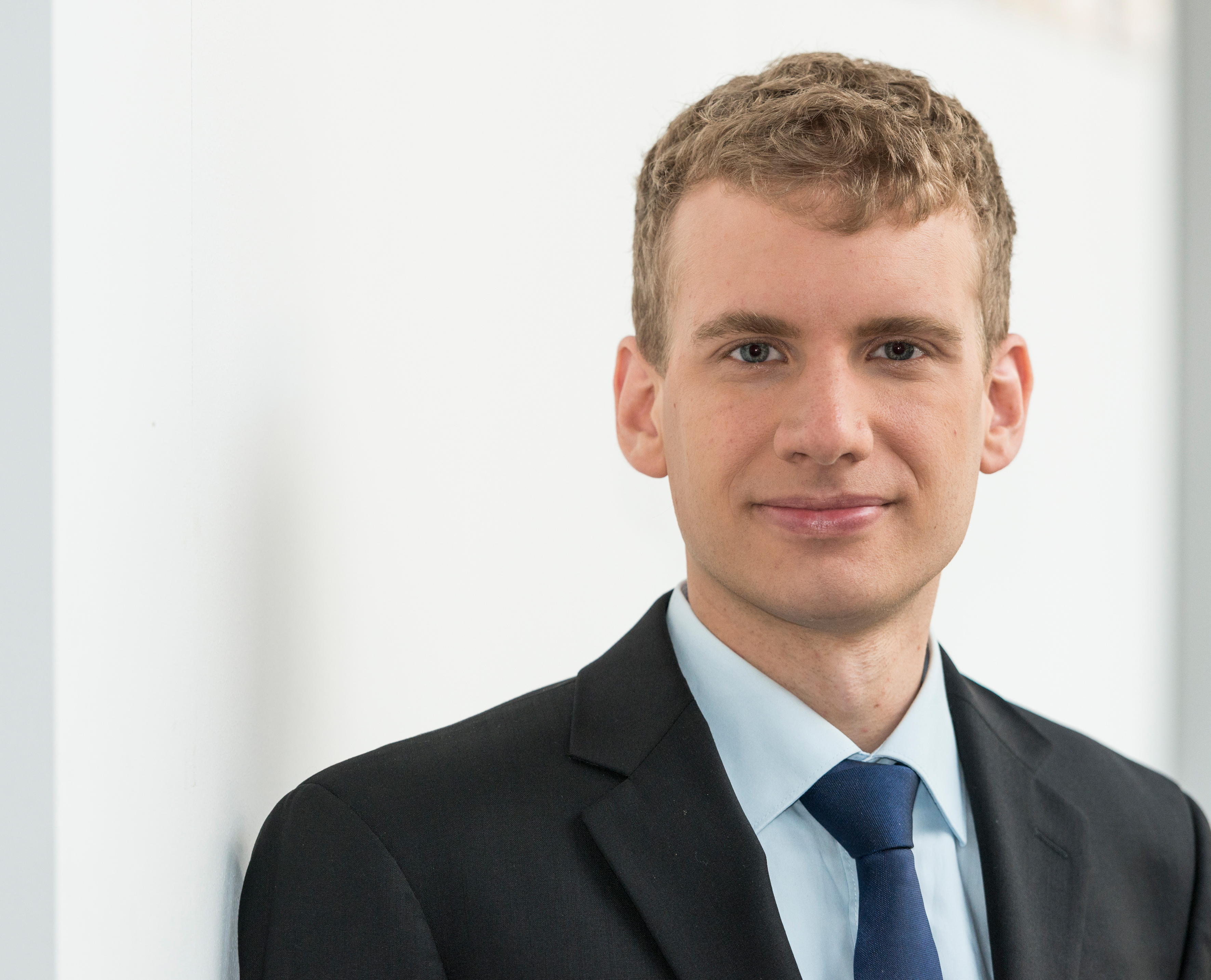 Matthias Baßler, M.Sc.
2/14/1987

Born in Offenburg

1997 – 2006

Grammar School Heimschule Lender, Sasbach

2006 – 2007

Stay in Australia and New Zealand

2007

Internship at STOPA Anlagenbau GmbH, Achern-Gamshurst
2007 – 2011

Bachelor's degree course in Electrical Engineering and Information Technology, Karlsruhe Institute of Technology (KIT)

2009 – 2012

Research associate at the Institute of Applied Information Technology, KIT, Karlsruhe

2010

Bachelor's thesis at the Institute of Applied Information Technology, KIT, Karlsruhe

2011 – 2014

Master's degree course in Electrical Engineering and Information Technology, KIT, Karlsruhe

2012

Vocational internship, Optical+Biomedical Engineering Laboratory, University of Western Australia, Perth, Australia

2013 – 2014

Master's thesis at corvolution GmbH, Karlsruhe

2014

Student employee, corvolution GmbH, Karlsruhe

2014

Student employee, Vincent Systems GmbH, Karlsruhe

2015 – 2016

Development engineer, Electronics, Siemens Healthcare GmbH, Erlangen

As from 2016

Development engineer, Hardware and Software, Vincent Systems GmbH, Karlsruhe
Awards
2006

Physics Prize of the German Physics Society (DPG)

2016

Innovation Award Baden-Württemberg, Dr.-Rudolf-Eberle Award, first prize for exemplary performance of Vincent Systems GmbH in the development of innovative products
Contact
Spokesperson
Dr.-Ing. Stefan Schulz
Vincent Systems GmbH
Breite Straße 155
76135 Karlsruhe
Phone: + 49 (0) 72 44 / 60 83 51
E-Mail: s.schulz@vincentsystems.de
www.vincentsystems.de
Press
Stephanie Zeiher
Vincent Systems GmbH
Königsberger Straße 2
76356 Weingarten
Phone: + 49 (0) 72 44 / 60 83 51
Mobile: +49 (0) 160 / 99 63 84 42
E-Mail: s.zeiher@vincentsystems.de
www.vincentsystems.de
A description provided by the institutes and companies regarding their nominated projects
Our hands are familiar to us – hardly any other body part affects our daily lives on the same level. If a person is born without a hand or loses it in the course of his life, prosthesis often becomes an important aid. Is it possible to further develop the modern prosthetic hand to come even closer to the human limb? And how can children, youths or those, who are missing only parts of their hand, be fitted with high-tech prostheses?
Stefan Schulz, Adrian Andres and Matthias Baßler re-examined prosthetic hands. From the perspective of functionality and aesthetics, new and effective prostheses with individual finger movement, so called multi-articulating prostheses, were developed. In addition to prostheses for adults in different sizes, Vincent Systems also developed the first multi-articulating prosthesis for children and youths. Furthermore with the development of the world's smallest electronic single finger prosthesis, complicated partial hand prostheses can be realized.
Whenever prosthetic fitting of the hand is mentioned nowadays, it usually refers to the replacement of a lost hand or forearm of an adult. In the field of electrically controlled prostheses, about 10,000 people are provided with a prosthetic hand annually. However, the number of potential users is a multiple thereof. For children and youths, up until now only prostheses with limited functionality were available. Those prostheses usually only use a single grip pattern, cannot be opened wide enough to hold a glass or a bottle and provide but little in grip strength. Another group of potential users only miss part of their hand, often as a result of infections which can affect both hands at the same time. The number of fitting candidates for treatment with partial hand prostheses is estimated at five to ten times the number of candidates that are missing a complete hand or forearm. For lack of practical electronic solutions for partial hand prostheses, this group could exclusively be provided with passive cosmetic prostheses.
For centuries prostheses have become more and more technical. They are a mirror of technological advancement of their era. With modern knowhow, prostheses ought to become smaller and lighter than ever before, and visually as humanlike as possible. Furthermore they should be controlled easily and intuitively. At the same time prostheses are expected to be sturdy tools that react fast, forcefully and are as versatile as a human hand. The problem becomes that many of the mentioned qualities contradict with each other. As though a racecar is supposed to set records, yet use a quiet and economical engine.
To accomplish these contradicting requirements, the human hand was used as a role model to find new solutions. Latest development methods and manufacturing technologies were used and a completely new concept for controlling the prosthesis was worked out.
Because of the compact structure of modern hand prostheses there is little space for distinct design, which is why it was neglected for the longest time. For the new prostheses, design became the second relevant factor next to technical functionality. The shape of the single digits and the whole hand thus are based strongly on the anatomy of the human hand.
The implementation of flexible structures into the construction, which are common nearly everywhere in nature, leads to improvements in durability of the new prostheses and adds to the adaptive characteristics when grasping. Bow springs between the finger joints allow for an adaptive tension while grasping and holding in style of sinews and ligaments in the human hand. Additionally, all metal components are covered with a soft plastic shell, thus the prostheses gets a natural feel that also helps with firm grasping.
The sense of touch is taken for granted on the human hand. It allows feedback about the grasping force but has been mostly neglected by commercial prostheses despite its importance for safe and precise grasping. Therefore, a system for vibration feedback was developed for the new prosthesis which conveys information of grasping forces to the user. This enables users to grasp without having to look at the prosthesis. Studies have shown that with such a feedback phantom limb pain can be mitigated.
A critical functional characteristic is the weight of prosthesis. An artificial hand always appears to be slightly heavier than a natural hand of the same weight. The reason is a difference in biomechanics. The natural hand is carried by bones, muscles, ligaments and sinews while an artificial hand is connected to the end of the residual limb where it is fixed to a rigid shaft. This kind of fixture results in an unnatural leverage, which makes the artificial hand seem heavier. A consistent use of high-strength, lightweight materials in conjunction with computer-aided shape optimization, led to a significant weight reduction without the need to sacrifice stability.
At the same time, new ways were opened in the field of controlling the prosthesis. Multi-articulating prostheses are mostly controlled by sensors, which detect muscle tension. Since usually only two big muscles in the forearm can be used, the selection of different grasps oftentimes becomes complicated. Therefore, most prostheses use additional control aids which entail crucial disadvantages, since the healthy hand or excessive movements are needed to reach other grasps. Without those additional aids only a small fraction of the functionality of the hand prosthesis can really be used. For the Vincent-prostheses a novel patented control system was developed. For the first time a user can reach all grasp patterns directly and intuitively just with the use of muscle tension impulses.
With the help of a special grasp selection scheme that gives order to the different grasps, ten grasp patterns and many grasp combinations can be used.
The VINCENTevolution2 hand prosthesis encompasses six motors, the new control concept and an artificial sense of touch and thus presents an unprecedented range of functions. Furthermore, it has the least weight of all multi-articulating prostheses. This new prosthesis is 20-30% lighter than comparable bionic hands. For its design the VINCENTevolution2 was awarded with the German Design Award and the Designpreis der Bundesrepublik Deutschland.
The newly developed VINCENTyoung uses four motors that drive the single digits, thus it is the first multi-articulating hand prosthesis for children and youths. A special challenge was the miniaturization of the actuation, which was achieved by use of a high performance gear. In comparison to conventional prostheses for children the opening width is increased from 50mm to 80mm, the grip strength is more than doubled and the grasping speed quadrupled. With those attributes the VINCENTyoung prosthesis is at present the smallest and lightest bionic hand.
The treatment of a partial hand amputation is a challenging task, especially since the length and quantity of missing fingers as well as the presence of a thumb varies and the form of the amputation is unique to each patient. For this challenge Vincent Systems has developed the currently smallest and lightest single finger prosthesis. Together with thumbs, frame elements in different sizes, and various sensors the partial hand system VINCENTpartial offers a modular tool box for the treatment of every single partial hand amputation.
Vincent System GmbH was founded as start-up in 2009 and specializes in the construction and production of bionic fingers, thumbs and hands. For years the company with its technological innovations assumes a leading position in this highly specialized industry. In 2009 Vincent Systems brought the first multi-articulating hand prosthesis with six motors and completely electric thumb to market maturity. The company produces the worldwide lightest hand prosthesis with single finger movement, developed the first sense of touch to be produced in series, and offers the first aid-free control concept for hand prostheses.
The department of research and development takes a leading role at Vincent Systems. High dynamics in innovation and a lean company structure allows fast transfer from prototypes to serial production. Our goal is, to offer fitting prostheses for every user. In addition we try to find even more applications for newly developed technologies, like miniaturized motors, sensors or flexible battery systems, even beyond prosthetics, such as motorized orthoses.
The right to nominate outstanding achievements for the Deutscher Zukunftspreis is incumbent on leading German institutions in science and industry as well as foundations.
The project "Helping Hands - Customized High-Tech Prostheses" was submitted by the Association of German Chambers of Commerce and Industry DIHK.