German President Steinmeier awards the Deutscher Zukunftspreis 2018
German President Steinmeier awards the Deutscher Zukunftspreis 2018
German President Frank-Walter Steinmeier awarded the Deutscher Zukunftspreis 2018, the German President's Award for Innovation in Science and Technology, this evening in Berlin to the team of Team Prof. Dr. rer. nat. Helga Rübsamen-Schaeff and Dr. rer. nat. Holger Zimmermann, AiCuris Anti-infective Cures GmbH, Wuppertal for their work on "Protecting compromised immune systems – the life-saving innovation that fights dangerous viruses".
The prizewinners' team has developed the world's first and only drug designed to prevent infections with a common virus during bone marrow transplants. The drug is based on a completely novel mode of action. It has since been approved in many countries and could revolutionize medical treatment of transplant patients and others with compromised immune systems.
Prof. Dr. rer. nat. Helga Rübsamen-Schaeff founded AiCuris Anti-infective Cures GmbH in 2006 after a long scientific career and served as Managing Director until 2015. She is currently Chair of the Scientific Advisory Board. Dr. rer. Nat. Holger Zimmermann ist CEO of the Wuppertal-based company.
With the Deutscher Zukunftspreis the German President honors outstanding research and development projects. Central to the jury's decision is the degree of scientific and technical innovation as well as the marketability of the product and job creation. The prize is endowed with € 250,000 in prize money.
The other nominees for the Deutscher Zukunftspreis were:
Dipl.-Ing. (FH) Thomas Bayer and Dr.-Ing. E. h. Manfred Wittenstein, Wittenstein SE, Igersheim, with the development "A radical new gearbox type – quantum leaps in productive manufacturing" as well as Prof. Dr. rer. nat. Peter Wasserscheid, Prof. i. R. Dr.-Ing. Wolfgang Arlt and Dr.-Ing. Daniel Teichmann, Friedrich-Alexander-Universität Erlangen-Nürnberg and Forschungszentrum Jülich, Hydrogenious Technologies GmbH, Erlangen, with their project "Liquid hydrogen storage – paving the way for a future hydrogen society".
They were honored with a certificate presented by President Frank-Walter Steinmeier and inducted into the "Circle of the Best".
More information on all projects as well as images and video material can be found here.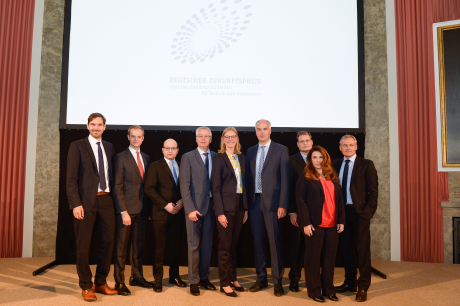 Deutscher Zukunftspreis 2019: Three teams nominated for the German President's Award for Innovation in Science and Technology
Zur DZPWelt