Deutscher Zukunftspreis 2019: Three teams nominated for the German President's Award for Innovation in Science and Technology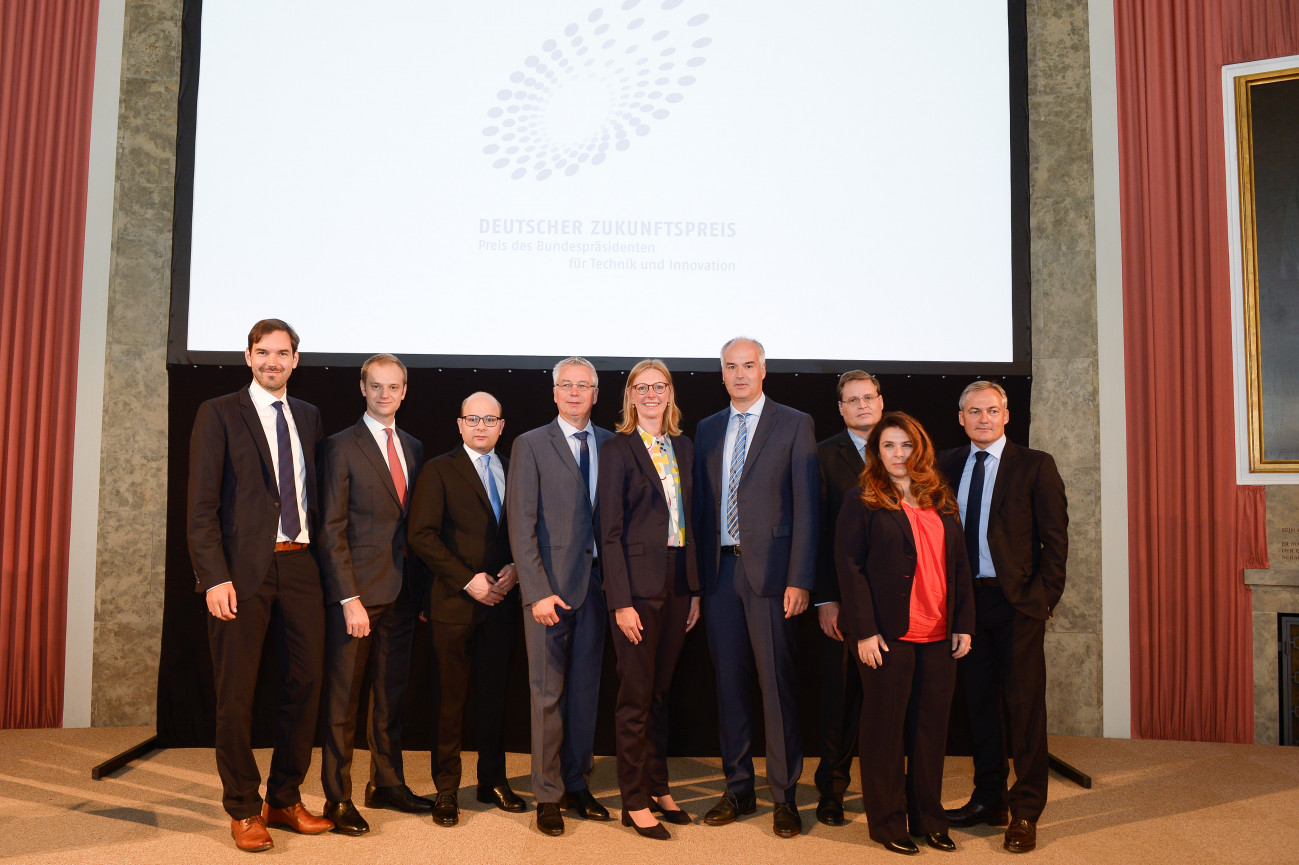 (f.l.t.r.) Martin Klenk, Alexander Rinke, Bastian Nominacher, Prof. Dr. rer. nat. Walter Leitner, Dr. rer. nat. Berit Stange, Dr. rer. nat. Christoph Gürtler,
Univ.-Prof. Dr. sc. techn. Mark E. Ladd, Christina Triantafyllou, Ph.D., Univ.-Prof. Dr. med. Arnd Dörfler
The nominations for the 2019 Deutscher Zukunftspreis were announced today in Munich. The jury has shortlisted the following projects for the final round and prior the winners on 27 November 2019: 
Team I with the project "CO2 – A Raw Material for Sustainable Plastics" 
Dr. rer. nat. Christoph Gürtler, Prof. Dr. rer. nat. Walter Leitner* and Dr. rer. nat. Berit Stange
Covestro Deutschland AG, Leverkusen,
*RWTH Aachen University, Max Planck Institute for Chemical Energy Conversion (MPI CEC), Mülheim an der Ruhr 
The three nominees have developed a catalytic process that utilizes carbon dioxide derived from exhaust emissions as a starting substance for the chemical industry at a market competitive cost.
Team II with their work on "Process Mining – The Key Technology for the Future of Work and Added Value in Businesses"
Alexander Rinke, Martin Klenk and Bastian Nominacher,
Celonis SE, Munich 
The team has developed a versatile, easy-to-use tool for analyzing, visualizing, and understanding business processes and which will make them more efficient.
Team III with their developments in conjunction with "Ultra-high-field MRI – Precision Medicine for the Good of the Patient" 
Christina Triantafyllou, PH.D., Univ.-Prof. Dr. med. Arnd Dörfler* and Univ.-Prof. Dr. sc. tech. Mark E. Ladd**
Siemens Healthineers AG, Erlangen
*Universitätsklinikum Erlangen, Friedrich-Alexander-Universität Erlangen-Nuremberg
**German Cancer Research Center (DKFZ Deutsches Krebsforschungszentrum), Heidelberg
The nominees have introduced various technical innovations that have established magnetic resonance imaging (MRI) using an ultra-high magnetic field strength as a new imaging system for clinical diagnostics.
This year's prize-winning team will be decided on 27 November 2019.