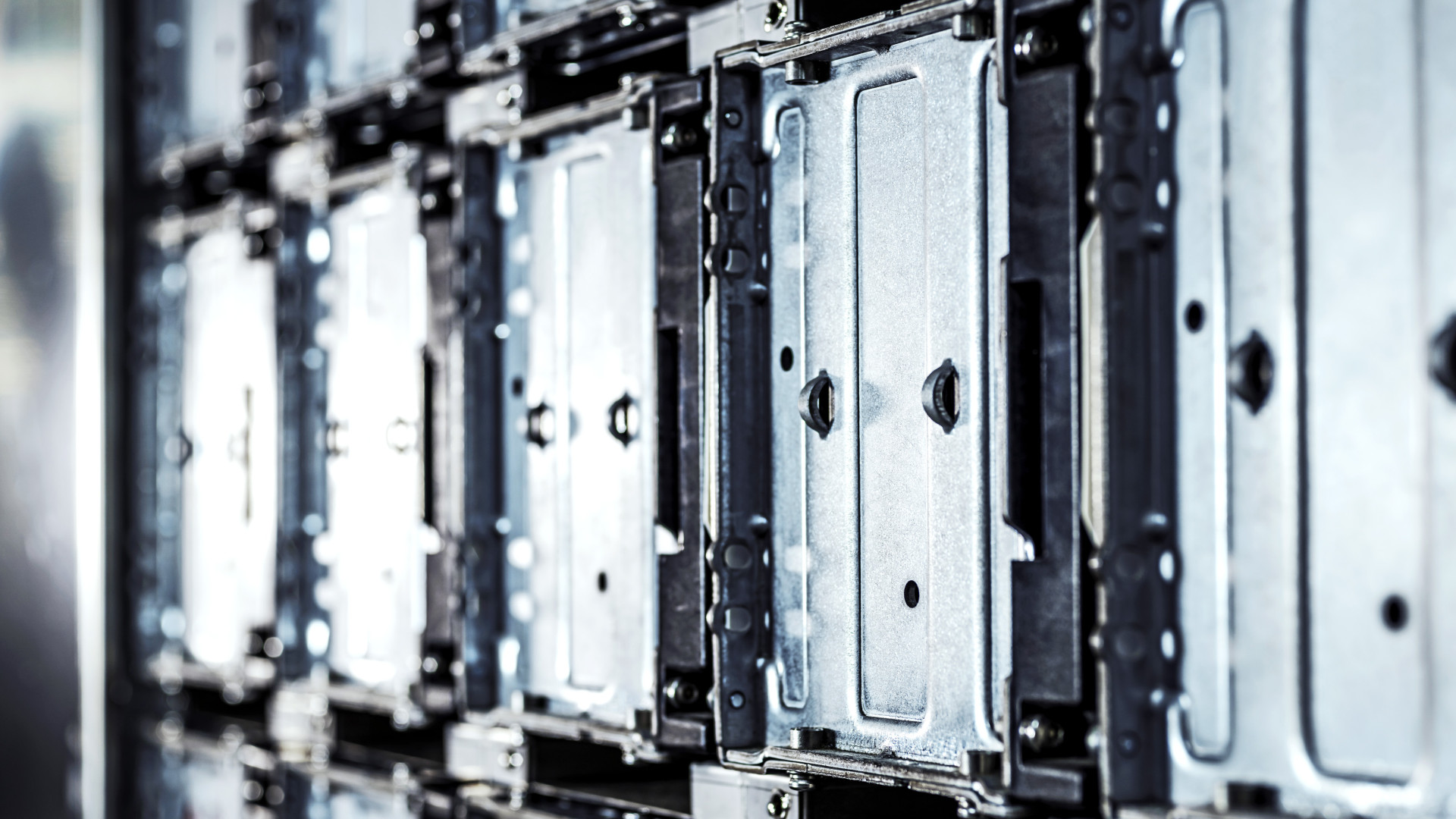 Charging electric cars in just a few minutes
In future, most cars will no longer to be powered by an internal combustion engine, but by an electric drive system. The energy to run electric cars is obtained from an onboard battery that requires regular charging. However, this can take several hours – a disadvantage of electromobility. Fast charging stations are available that make charging the battery much quicker. But they place greater demands on the grid that in some cases can only be met at great expense and effort. How can this obstacle be overcome which up to now has kept many drivers from purchasing an electric vehicle?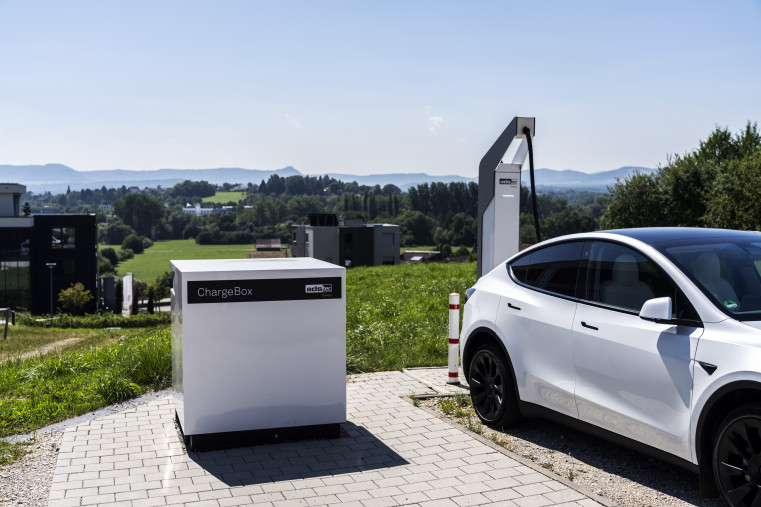 Thomas Speidel, Dr. Thorsten Ochs and Stefan Reichert have the answer. It's called "ChargeBox". With this innovative system that the three nominees and their teams developed the means for fast-charging electric car batteries can be provided almost everywhere and easily. All that is needed is a standard electrical connection as is found in residential buildings and commercial properties – there is no need to expand or modify the grid infrastructure. Yet the new technology will make it possible to charge vehicle batteries within minutes. With this innovation the three nominees have laid the foundation to make driving a battery-powered electric vehicle just as comfortable and easy as cars with gas or diesel engines. Thomas Speidel is CEO and Managing Partner of ADS-TEC Energy, Dr. Thorsten Ochs is the company's Chief Technology Officer. Stefan Reichert is head of the Power Converter Units group at the Fraunhofer Institute for Solar Energy Systems ISE.
Over the past few years, the envisaged transition to electromobility progressed haltingly. This is because the psychological barrier to purchasing a battery-powered vehicle is high for many drivers. In addition to the limited range per battery charge, the long charging time is a problem in the eyes of many users. In addition, many drivers of electric cars have no means of charging their cars at home or at their place of work. They are forced to rely on public charging stations on main streets or in the city. Charging of the battery there should also be done as fast as possible. This is possible at special ultra-fast charging stations that work with a high charge capacity. Yet that is a challenge for many local grids. In many places, the grid must be expanded to install charging stations and a direct connection to the superordinate regional medium-voltage grid is often needed. That is expensive, time-consuming and requires a lot of room.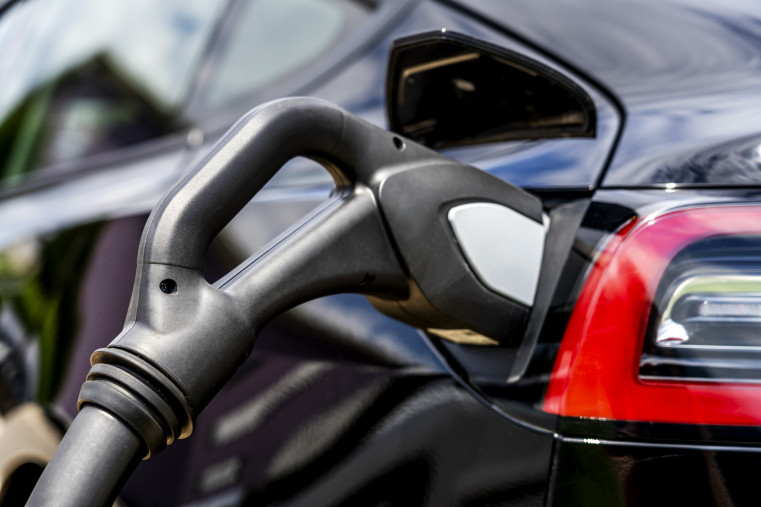 The ChargeBox, however, makes it unnecessary to expand grid infrastructure. This is due to an entire bundle of innovative technologies, including an integrated battery storage system, a very compact and powerful electronic converter as well as a cooling unit adapted for it. Altogether these components only take up around one and a half square meters. The system has two separate connections for charging two electric cars at the same time. In parallel operation, compared to conventional charge points, charge capacity is a very high 160 kW each. If only one charging point is used, up to 320 kW is available. A standard vehicle battery with a capacity of 100 kW hours can thus be charged 80% in around 15 minutes.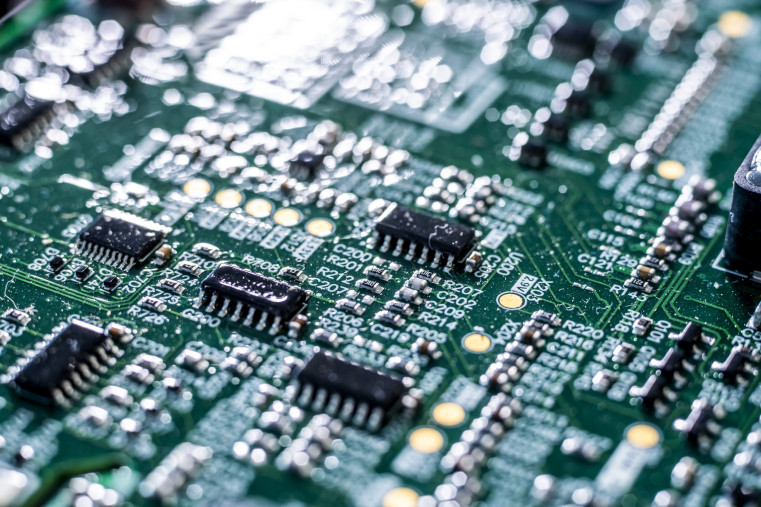 The development is based on an industry project on behalf of car maker Porsche which wanted a battery-buffered fast charging system for e-vehicles. The team at ADS-TEC around both nominees, Thomas Speidel and Thorsten Ochs, ran with the suggestion and implemented the technology. They also cooperated with the working group headed by Stefan Reichert at Fraunhofer ISE. The group has vast and longstanding competence in power electronics which spurred the development of the new technology.
At the core of the new technology is the integrated battery storage system designed for high-power ultra-fast charging – a component that many other charging stations on the market do not have. The storage battery can store 140 kW hours of power that is fed to the vehicle battery during charging. This relieves the burden on the grid and effectively prevents disruptive feedback effects on the grid. Power electronics with several converters for multi-stage voltage adjustments are decisive for fast and safe charging.
The semiconductor components used not only provide a good power density, but also ensure losses are kept to a minimum during energy transfer. The efficiency while charging the battery storage system from the grid is easily 95 percent; when current flows between the battery storage system and vehicle battery, it is over 98 percent. A high-frequency transformer separates the system components. This means the vehicle battery and the battery storage system can be charged galvanically while disconnected from the grid. To keep the electronics very compact, the nominees relied on silicon carbide – an innovative semi-conductor material that has never been used in any comparable device. Overall, several dozen patents were registered for the innovations that have gone into the fast charging station.
The company ADS-TEC Energy GmbH started series production of the ChargeBox and put it on the market in 2020. Over 1000 units have already shipped. A new production site was built in Saxony to manufacture the ChargeBox. The prospects of further growth are good. The switch to electromobility requires a definite expansion of the fast charging infrastructure, particularly at highway rest stops and in inner cities. The number of charging points throughout the EU is expected to increase to over three million by 2030 – almost every tenth station would then be located in public spaces. On that basis, ADS-TEC expects to produce around 5000 ultra-fast charging stations every year. This growth is also buoyed by the founding of a subsidiary in the USA as well as a joint venture with a Scandinavian company.
The nominees also consider the new technology as the launching pad for other products. They system could conceivably also be used to charge trucks and buses. In a follow-up project, a comprehensive mobile charging unit was developed: a truck trailer with ten integrated fast charging stations, the so-called ChargeTrailer. It could be used at events, for example – and allow visitors who arrived by electric car to charge their vehicles easily with power for their return trip.
The right to nominate outstanding achievements for the Deutscher Zukunftspreis is incumbent on leading German institutions in science and industry as well as foundations.
 The project "Charging electric cars in just a few minutes - even on the power-limited grid" was submitted by Fraunhofer-Gesellschaft e.V..
Federal President Frank Walter Steinmeier will present the Deutscher Zukunftspreis to one of the three nominated teams on October 26, 2022.
More Details
Resume
Dipl.-Ing. Thomas Speidel
29.05.1967

Born in Stuttgart

1987

High school graduation, Helene-Lange-Gymnasium, Markgröningen

1988 - 1995

Studies of Electrical Engineering, degree: Diplom, University of Stuttgart

1995

Entry at ADS-TEC GmbH

Since 1998

CEO and Managing Director of ADS-TEC, later ADS-TEC Group

2017/2018

Founder and Managing Director of ads-tec Energy GmbH, Nürtingen

End of 2021

CEO of Nasdaq listed ads-tec Energy plc
Further Activities
2001

Founding member and board member of the charity foundation "Stiftung Leben & Arbeit" in Limbach (close to Dresden)

2010 - 2014

Founding board member of the Competence Network Lithium-Ion Batteries (KLiB e.V.)

2012

Founding of the "H-H Speidel Foundation" as shareholder of ADS-TEC Holding

2012 - 2022

Executive Board of StoREgio (Energy Storage Systems e.V.)

2015 - 2021

Member of the University Board, Esslingen University

Since 2016

President of the German Energy Storage Systems Association (BVES e.V.)

Since 2017

Member of the "Strategic dialogue for the automotive sector", Baden-Wuerttemberg

Since 2018

Member of the Fraunhofer ISE Board of Trustees

Since 2021

Industrial sponsorship / member of the management circle: Competence cluster for battery utilization concepts "Cross-sectional Battery Life Cycle Initiative" of the German Federal Ministry of Education and Research (BMBF), umbrella concept of the so-called "Battery Research Factory"
Honors and Awards
2002

Daimler Chrysler award as production supplier "Power Train Passenger Cars"

2008

State Award "Young Companies", Baden-Wuerttemberg

2012

Personal award as "Maker of Tomorrow / Übermorgenmacher" - awarded by the state government of Baden-Wuerttemberg
Dr. rer. nat. Thorsten Ochs
03.04.1972

Born in Herborn

1982 - 1991

Wilhelm-von-Oranien School, Dillenburg, Germany

1991 - 1992

Basic military service

1992 - 1997

Studies of Physics, Justus-Liebig-University Giessen, Degree: Diplom

1997 - 2000

PhD student at the Max Planck Institute for Metals Research, Stuttgart, Germany

2000

Degree: Doctor of Science (Dr. rer. nat.), University of Stuttgart, Germany

2000 - 2003

Project management in research and advanced development for sensor technology and catalysis at Robert Bosch GmbH, Stuttgart

2003 - 2011

Project management in the field of development of sensors, starting systems and exhaust aftertreatment systems at the Robert Bosch GmbH

2012 - 2013

Head of Department Corporate Sector Research and Advance Engineering, Applied Research 1 - Chemical Processes and Technology at Robert Bosch GmbH.

2014 - 2018

Vice President, Head of the Project House "High Energy Battery Technology" and the International Strategic Program "High Energy Battery Technology" of Robert Bosch GmbH

2017 - 2019

CEO and President Seeo Inc., Hayward, California, USA

2019

Vice President Business Unit Battery of Robert Bosch GmbH

2019 - present

Chief Technology Officer of ads-tec Energy GmbH, Nürtingen and since

2022

CTO of ads-tec Energy Plc.
Honors and Awards
1997

Study support award of the Dr. Wilhelm Heinrich Heraeus and Else Heraeus Foundation

2017

Handelsblatt - Germany's 100 innovators
Stefan Reichert
08.02.1978

Born in Schwäbisch Hall

1997

High school diploma, Technisches Gymnasium, Öhringen

1997 - 1998

Alternative civilian service

1998 - 2004

Studies in electrical engineering, specialising in "Power Electronics and Electrical Machines", Universität Karlsruhe (TH), Germany
Degree: Diploma in Electrical Engineering
Diploma thesis: "Simulation and measurement of the dynamic behaviour of PEM fuel cells"

Since 2005

Scientific assistant in the Power Electronics department, Fraunhofer Institute for Solar Energy Systems ISE, Freiburg
Project management in the field of photovoltaic inverters, inverters for fuel cell applications

2010

Team leader "Electromobility and Grid Integration", Fraunhofer Institute for Solar Energy Systems ISE, Freiburg
Project management in the field of power electronics for renewable energies and electromobility, including inductive charging systems for electric vehicles, onboard converters for electric vehicles, conductive battery-assisted high power charging systems (HPC)

2011 - 2016

Lecturer at Albert-Ludwigs-University Freiburg "Grid Integration and Control of PV Systems", Solar Energy Engineering programme

Since 2017

Lecturer at Albert-Ludwigs-Universität Freiburg "Power Electronics for E-Mobility", Sustainable Systems Engineering programme

2022

Group leader "Power Converter Units", Fraunhofer Institute for Solar Energy Systems ISE, Freiburg
Head of teams "Electromobility and Grid Integration" and "Photovoltaics and Storage Systems"
Fast charging systems for heavy-duty vehicles, charging systems for stationary batteries
Further Activities
2014 - 2016

Collaboration in the DKE standardisation committee GAK353.0.1 "Contactless charging of electric vehicles"
Honors and Awards
2005

Diploma thesis prize donated by the company ABB

2017

Zukunftspreis Ewald Marquardt Foundation 2017 (special prize) "Universal, highly dynamic converter control for single- and three-phase systems in grid-parallel, island and uninterruptible UPS operation"
Contact
Coordination
Nadine Reich
Leitung Büro Geschäftsführung
ads-tec Energy GmbH
Heinrich-Hertz-Str. 1
72622 Nürtingen
Phone: +49 (0) 7022 / 25 22 11 15
E-Mail: N.Reich@ads-tec-energy.com
Web: www.adstec-energy.com
Press
Dennis Müller
SVP Product Marketing & Communication
ads-tec Energy GmbH
Heinrich-Hertz-Str. 1
72622 Nürtingen
Phone: +49 (0) 7022 / 25 22 11 41
E-Mail: d.mueller@ads-tec-energy.com
Web: www.adstec-energy.com
Fraunhofer ISE
Christina Lotz
Leiterin Kommunikation
Fraunhofer-Institut für Solare Energiesysteme ISE

Heidenhofstr. 2

79110 Freiburg
Phone: +49 (0) 761 / 45 88 58 20
Mobile: +49 (0) 172 / 36 77 927
E-Mail: christina.lotz@ise.fraunhofer.de
Web: www.ise.fraunhofer.de
Spokesperson
Thomas Speidel
CEO der ads-tec Energy PLC (börsennotiert NASDAQ),
geschäftsführender Gesellschafter der ads-tec Holding,
ads-tec Energy GmbH
Heinrich-Hertz-Str. 1
72622 Nürtingen
Phone: +49 (0) 7022 / 25 22 11 01
E-Mail: ceooffice@ads-tec-energy.com
Web: www.adstec-energy.de
A description provided by the institutes and companies regarding their nominated projects
Charging electric cars in just a few minutes - even on the power-limited grid
Driving the energy transition to a CO2-neutral supply is a must in all sectors. Electricity is becoming the key factor that efficiently connects the electricity, heat, transport and gas sectors. In the transportation sector, electric powertrains enable a proven technological alternative to the classic internal combustion engine, and the deployment of these vehicles by the millions is coming. However, range anxiety and the fact that the charging infrastructure is not yet widely available are obstacles for many potential users. One major problem is the time needed for a charging session. Fast charging infrastructures therefore offer a suitable technological approach to help battery-electric mobility achieve wide acceptance in society. Short charging times with high charging powers place high requirements on the respective infrastructure of the local power grid. There is often a lack of sufficiently powerful grid connections to operate fast chargers directly. So far, the only way was to expand the power grid infrastructure in a costly, time-consuming and space-intensive way, which was fraught with appropriate delays. To meet these challenges, we have developed a charging technology that can enable charging in minutes instead of hours with minimal space requirements and at the respective existing power-limited grid connection.
The starting point for the development was Porsche's request in 2017 for ADS-TEC Energy to develop and supply battery-buffered fast chargers for Porsche charging locations. Aware of the extraordinary challenge of realizing such high energy and power densities with optimal efficiency in the smallest possible space, ADS-TEC Energy contacted the Fraunhofer Institute for Solar Energy Systems. For ADS-TEC Energy, Fraunhofer ISE, with its many years of expertise in the field of highly efficient power electronics, was a proven specialist to be able to handle this task. As a result, the ChargeBox was created, a compact, storage-based fast charging system with a very small installation area of only 1.6 m². The system consists of an integrated battery storage, highly compact, multi-stage power electronic converters, the control unit and safety technology as well as the necessary air conditioning. Two charging points can be connected to one ChargeBox. Up to now, ADS-TEC Energy is not aware of any comparable system in terms of power density, construction size, noise output, storage capacity and performance.
The fundamental principle of the battery-buffered fast charging system is explained simple and quickly. Based on the available, but at these locations limited, grid reference power, the internal battery storage is charged in the charging station. If a vehicle comes to the station for charging and requests more power than the grid can provide, the difference is added from the internal battery and the vehicle gets what it requests. This resulting shortening of the charging process to the respective minimum, constitutes a major gain in acceptance for EV drivers.
The core elements of the power electronic converters that are used are the semiconductor switches. Fraunhofer ISE has many years of experience in silicon carbide semiconductor switches for PV inverters, which has now been successfully transferred to stationary chargers. Silicon carbide transistors allow higher switching speed and clock frequency. This allows the size of inductive components to be reduced, i.e. the power electronic converters are both highly compact and highly efficient. Other technical challenges included the symmetrical distribution of losses within a semiconductor module and the insulation capability and moisture sensitivity of the silicone gel in the semiconductor module. Solving these research challenges advances the use of this new semiconductor technology not only in the field of charging infrastructure, but also for other applications. The project thus strengthens Germany's and Europe's technological sovereignty and highlights their technological leadership in global competition, which can only be maintained through innovation and excellent products.
Key to the larger picture of the application is the overall view of the fundamental transformation of our energy system and the contribution that development is making to that transformation. Apart from the valuable contribution of fast charging on the limited power grid, ADS-TEC's battery-based platforms open completely different possibilities, which is what the company has generally been striving for. ADS-TEC's fundamental vision assumes that today's energy system, which is mostly centralized, will be decentralized, intelligent and cross-sectoral in the future. Renewables are drivers here, as well as electromobility, heat pumps and intelligent smart grid solutions.
Especially in the current times, it becomes clear how crucial and system-relevant the energy supply is. If central power plants and structures are replaced by hundreds of thousands or even millions of decentralized units in our homes, companies and infrastructures, it will be a matter of operating these platforms intelligently and securely and keeping them running for decades.
The fast charging of electric cars is thus just one example of how these new platforms can make a valuable contribution. If many of these intelligent platforms are connected, virtual power plants are created that can then also market and use the existing battery capacity in a different dimension.
The cooperation between FRAUNHOFER ISE and ADS-TEC makes such eco-platforms possible. They are not just components or assemblies that will be delivered cheaper from Asia at some point. They are complex platforms of hardware, software, and services that, when combined, serve as the basis for future decentralized energy provision and optimization - especially also in the orchestration of local volatility and sector coupling due to precise IT control, good prediction based on data collections, and adaptive optimization using computer-aided models.
With the chosen technological approach, the choice of components, the air conditioning and the consideration of the respective grid connection conditions, the system was already set up during the development phase to enable global use. Furthermore, noise emissions have been reduced to a minimum. With the reduction of the installation area of the entire system from 1.26 m x 1.26 m to a minimum, even installation in confined residential areas or city centers is possible. In contrast to other solutions, the integration of the system in public spaces is simplified by the fact that infrastructural measures can be reduced to a minimum, thus saving considerable costs for installation. 
For the industrialization of such a compact, highly innovative system, not only compliance with all standards but also reliability over the service life must be tested and proven before a market launch. Together with laboratories, some of which are accredited, an extensive validation program was drawn up and successfully completed, among other things with regard to environmental influences or temperature loads in combination with humidity. Important tests required for CE and UL certification were executed and evaluated by TÜV Süd, for example.
After the successful market launch with the pilot customer Porsche, the system was transferred to series production. In the meantime, over 1,000 charging points with up to 320 kW have been delivered.
About ADS-TEC Energy
ADS-TEC Energy Inc. is a U.S. subsidiary of the German ADS-TEC Energy GmbH, which is a subsidiary of the publicly traded (NASDAQ) Irish ADS-TEC Energy plc. Based on more than ten years of experience with lithium-ion technologies, ADS-TEC Energy develops and manufactures battery storage solutions and fast charging systems including their energy management systems. Its battery-based, fast charging technology enables electric vehicles to ultra-fast charge even on low powered grids and features a very compact design. The high quality and functionality of the battery systems are due to a particularly high depth of development and in-house production. With its advanced system platforms, ADS-TEC Energy is a valuable partner for automotive, OEMs, utility companies and charge-operators.
More information on: www.adstec-energy.com
About Fraunhofer ISE
The Fraunhofer Institute for Solar Energy Systems ISE in Freiburg, Germany is the largest solar research institute in Europe. With a staff of about 1,400, we are committed to promoting a sustainable, economic, secure and socially just energy supply system based on renewable energy sources. We contribute to this through our main research areas of energy provision, energy distribution, energy storage and energy utilization. Through outstanding research results, successful industrial projects, spin-off companies and global collaborations, we are shaping the sustainable transformation of the energy system.
In the business areas of Photovoltaics, Energy Efficient Buildings, Solar Thermal Power Plants and Industrial Processes, Hydrogen Technologies and Electrical Energy Storage as well as Power Electronics, Grids and Smart Systems, the Institute develops materials, components, systems and processes. For this purpose, we have an excellent laboratory infrastructure at our disposal. In addition, we perform analyses, carry out studies, provide consultations and offer our clients testing and certification procedures. Fraunhofer ISE is certified according to the quality management standard DIN EN ISO 9001:2015.
Further information: www.ise.fraunhofer.de/en
The right to nominate outstanding achievements for the Deutscher Zukunftspreis is incumbent on leading German institutions in science and industry as well as foundations.
 The project "Charging electric cars in just a few minutes - even on the power-limited grid" was submitted by Fraunhofer-Gesellschaft e.V..
Federal President Frank Walter Steinmeier will present the Deutscher Zukunftspreis to one of the three nominated teams on October 26, 2022.